I've got an older blender in the kitchen. It says it's an Osterizer. It has two o-rings which keep it from leaking when the various parts are attached; they're just old and getting kind of yucky. So I thought I'd use this flexible PLA filament I have to see if I could design something.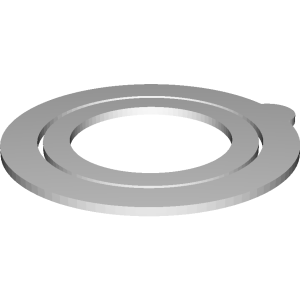 I sliced it with a raft and let that get laid down as standard white PLA. I also let two layers of the part itself print with the PLA then paused, did a filament change to the flexible PLA and then let it continue. I note that I've adjusted the feed rate and flow rate in OctoPrint to 108% in both cases since the feed wheel seems to want to slip a little on the side of the flexible filament itself. This seems to be the required compensation for this to behave itself.
You may be wondering why I didn't just do the entire job in flexible PLA. I've learned my lesson with this stuff. It simply will not come off the print bed. So under no circumstances should you print this stuff directly to a BuildTak surface. It's best to do as I've done and print a couple layers of standard PLA first then allow this to continue on top of that.
I also note that I'm heating this to 192C which is the same as the earlier standard PLA. I think I would recommend 100% infill for this stuff; otherwise, I think it might give you difficulties. As it's printing and I'm viewing it from the top, I see that there are not clear lines like you might see with PLA. It almost appears like a foam, to be honest. Given the nature of this material, I think it's going to make for a workable pair of o-rings. I'll let you know tomorrow, though.