What is the problem?
I installed Octoprint on my old laptop and beforehand I installed the raspberry os on it windows was soo... slow.
I followed the insulation guide from how to install Octoprint on Linux until the part for adding the webcam as I wanted to use a DSLR camera instead.
After launching the Octoprint on my browser, I tried to install Octolapse -or any plugin- but it couldn't install it even on ssh.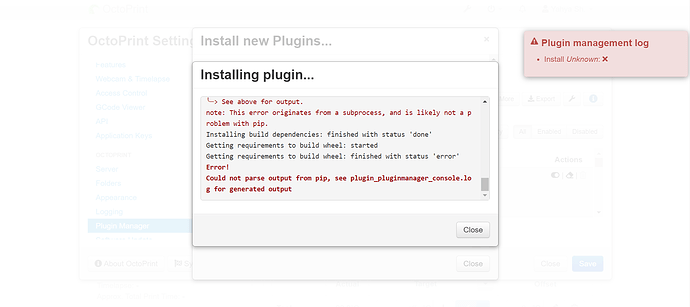 What did you already try to solve it?
I tried to:
reboot it
reinstall it
update the os
look on the Internet but didn't find anything
Have you tried running in safe mode?
No
Did running in safe mode solve the problem?
No
Systeminfo Bundle
octoprint-systeminfo-20230417014420.zip (13.1 KB)
octoprint-logs.zip (121.9 KB)
Additional information about your setup
OctoPrint 1.8.7, Python 3.9.2, Debian 11-dec2022