Hi there,
I've been thinking a lot during the development of the Dashboard and there are a few things I would like to address for a future version. I'm throwing this out both to get feedback and to see if someone would be willing to team up and explore the following possibilities.
The default UI space is tiny so it would be nice to be able to set up multiple boards for different purposes (printer, system, etc...).
A new version should be responsive and adapt to different window sizes instead of the current 3 column model.
Some kind of "component" framework for widgets would reduce code duplication.
The current template is pretty much hardcoded with limited possibilities for user customisation. Printers and systems vary a lot, so it would be nice if the users could re-arrange the dash content to their needs.
It would be very handy if the user could create a custom dashboard for pretty much any purpose.
A hook into the user system is required so fine-grained permissions can be applied. Any customization should require a specific user permission, limit view mode to specific dashboards, etc...
I've been thinking about the possibility to add a very light-weight time series database to store metrics in for the visualisations. I think it would be useful to select a time period for (i.e Last 5 minutes, Last Day, Current Print Job). An in-mem data structure would however be enough to start with.
It would be better to use the OctoPrint API directly instead of the viewModels if It would be possible to automate the configuration of the API authentication for a Plugin. I need to research that. It would also be very nice to configure and develop custom data sources both within and outside of the Octoprint instance.
A new version has to be more light-weight overall. It should have absolute minimal performance impact both on the backend and the frontend.
The code is pretty messy as I had absolutely zero knowledge about JS when starting (who am I kidding. I'm still clueless). A better structure is needed.
Given all the flexibility above, some sane defaults should be provided to get a working dashboard by simply installing the plugin without any other configuration.
I've been playing around with freeboard (MIT license) a bit and it looks like it could meet many of the requirements above. Here's a mockup of a System dasboard based on a flask prof of concept by Max Woolf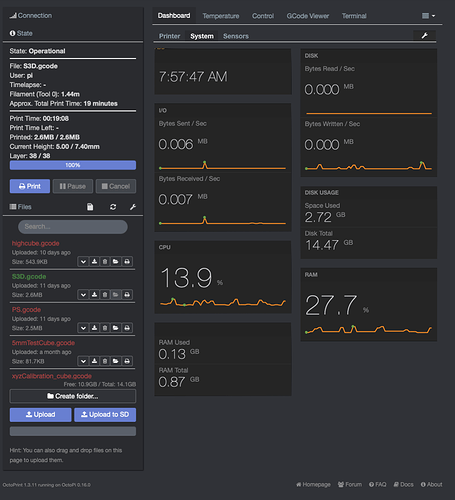 What do you think?