Hello,
I create this topic (I do not know if it is in the good place) because I developed a solution that speeds up the copy on the printer's SD card from octoprint (transfer speed between 10 and 30mo / s).
this project was realized with the help of Janpolanton (https://www.lesimprimantes3d.fr) who designed the PCB from my prototype 1.
This project is called SD Switch Fast Copy (SSFC), it is a plug-in card on a raspberry PI 3 3B + and 4 (in test), this card is accompanied by an octoprint plugin that I developed.
Documentation link: https://hotends.dozuki.com/c/EN
pre order link: https://www.hotends.fr/fr/home/76-sd-switch-fast-copy.html
video presentation FR: https://www.youtube.com/watch?v=pPnYAxwhoJE&t=74s
comparative video: https://www.youtube.com/watch?v=FNM3-IcqQLM&t=3s
and video attached showing the PCB and the plugin in action (zip)with ssfc module.zip (1.8 MB).
In a nutshell, the plugin replaces the copy system on the SD card (octoprint).
I created this solution because I encountered various quality problems with USB printing (blob, micro pause ...), but I wanted to keep the comfort of octoprint, so I created this solution.
I tested different alternatives, such as the wifi SD card, but it was relatively slow and very unstable...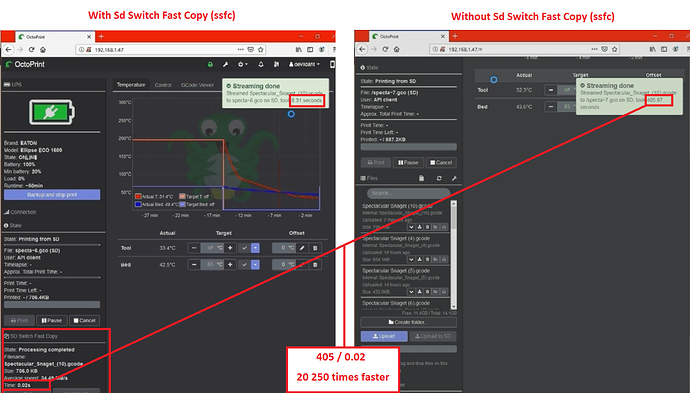 best regards