Hey Everyone, I'm hoping I can get some direction, or some ideas as to where I've gone wrong. I am not a Linux pro by any means, but am slowly learning and can follow instructions. If my wall of text is too long, I'll put a TL:DR at the bottom
I performed the Octopi install on my Raspberry Pi 3 B+, and Octoprint is currently version 1.3.8 and Octopi shows 0.15.0. Filament Manager is version 0.5.3 and I had great success using it. I really liked it. I decided to add an Ender 3 printer, and in anticipation, I tried to configure things for the external database option. I am having problems getting Filament Manager to connect to the database.
I promise, I have searched for how to get this setup, I have pasted a few links below as proof!! (if there is a problem with external links, I will gladly remove them...just let me know)
https://bpwalters.com/blog/setting-up-postgresql-on-raspberry-pi/

http://raspberrypg.org/index.html@p=248.html#more-248

and I definitely followed closely to this post (in this plugins portion of the forum),

I tried installing PostgreSQL to the Raspberry pi itself, as well as on my desktop (windows 10), and can not get it to connect in either situation. I CAN connect my desktop to the database when it is running on the Raspberry Pi...but only as postgres user (not sure if that is a clue or not). When I tried connecting as user octoprint (as the instructions say in the plugin supplemental page), I can't actually open the tables in the database.
Here is what I have setup in the postgresql.conf file...(cutdown to the relevent data, found in this path /etc/postgresql/9.6/main)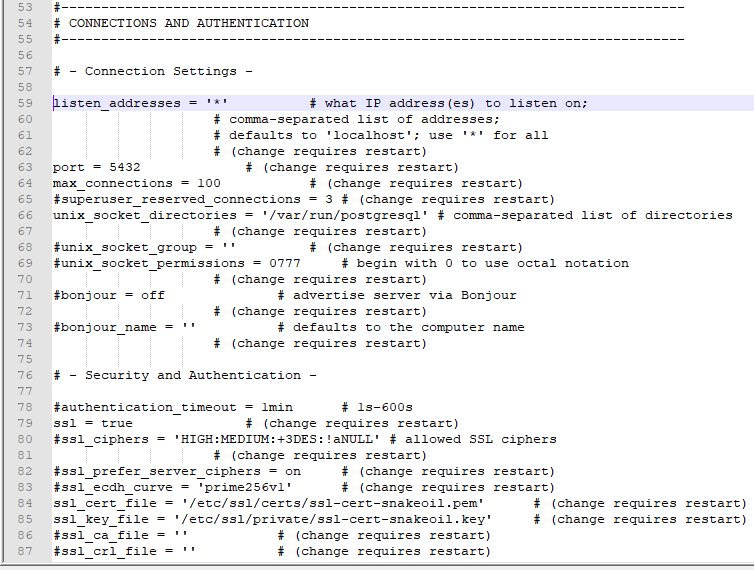 Here is the pg_hba.conf contents (same folder as above)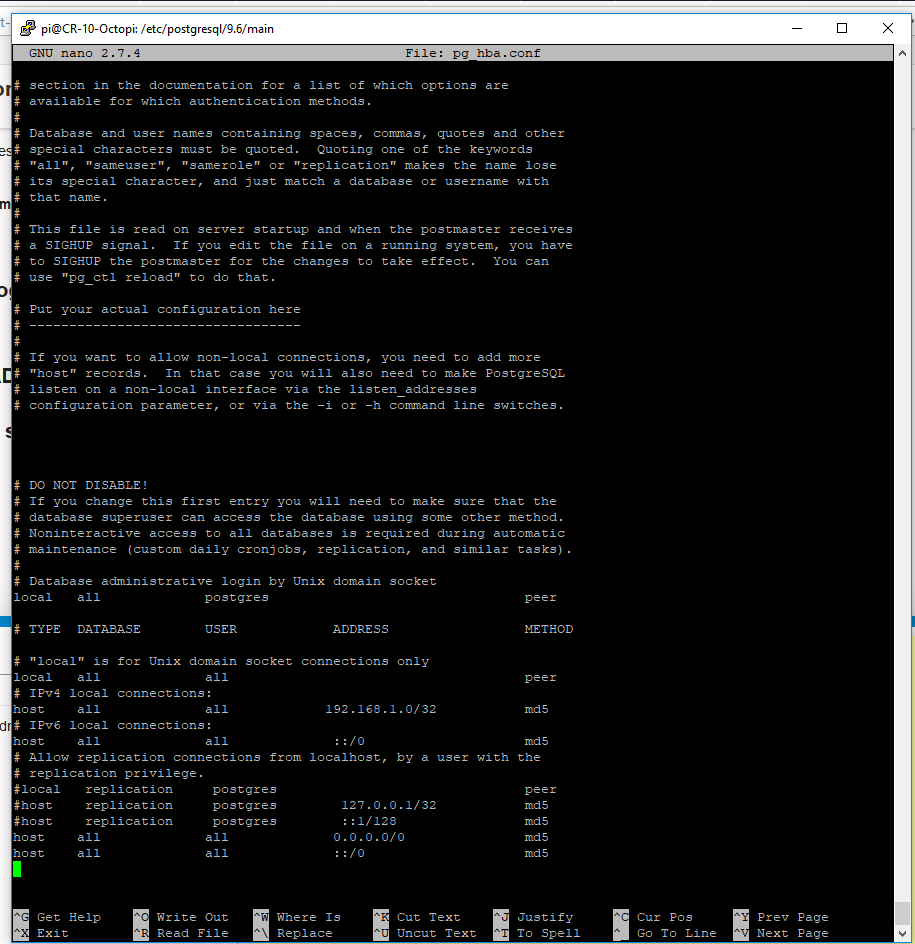 Here is what I get when I found another post mentioning a command to see what the Pi will listen for...


When I enter/login to Postgresql on the Raspberry pi, I see this,
postgres@CR-10-Octopi:/etc/postgresql/9.6/main$ psql
psql (9.6.7)
Type "help" for help.

Upon configuring things on the Raspberry Pi, I was sure to restart the service, using this command...
sudo systemctl restart postgresql.service
**And I even restarted the Pi itself, as well as Octoprint in order to try to get the connection going. I have run both ** sudo apt-get update & sudo apt-get upgrade .
**TL:DR - Filament Manager plugin will not connect to PostgreSQL database running on the Pi itself, nor the Windows 10 desktop (separate instance) running it. Desktop can connect to PostgreSQL on Raspberry Pi, but only using postgres user. **
If there is any additional information needed, please let me know. I feel like I've either installed the postgresql in the wrong location on the RPi (not sure if that's possible) so the plugin can't see it, or I'm missing some permission that needs to be set (more likely, since I can't connect to the desktop database either).
*Thanks for the tip about the ''' !