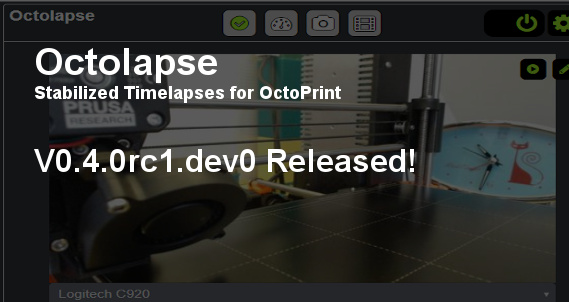 After over 9 months of sweat and tears (no blood thankfully), Octolapse V0.4.0rc1.dev0 has been released and is ready for testing!
You can find information about the release, including a fairly comprehensive list of all of the new features, here.
You can find a beta installation guide here. It needs a lot of work, but I think the skill level on this site is high enough for it to be good enough

I would appreciate any feedback or suggestions you have for the guide. Since I know the new version so well, it's a bit difficult for me to figure out what's important for users of previous versions to know. And it's down right impossible for me to understand a complete newcomer's perspective.
Please report any feedback here. Problems, suggestions, thoughts, feelings, or even just a simple message letting me know you have tried to install it are welcome! Feedback is absolutely critical to getting things ready for a production release.
If history serves as a guide, I will be totally inundated with support requests over the next few days, so I apologize in advance if I'm a bit slower than usual to respond. However, this is exactly the goal, since reporting a few issues now will prevent those issues from percolating up to the stable release, saving me lots of time and headaches. If you have critical issues that prevent you from printing, simply disable Octolapse, and I'll try my best to solve your issue ASAP.
Anyway, thanks in advance for any and all help, and, as always, happy OctoPrinting!