HI! New here, I've made one other post asking for an assist on something but realized I never stopped to introduce myself and say HI.
I found OctopPrint a few weeks back and saw multiple videos speaking very highly about it. I decided to load OctoPi on a spare R Pi 4 8G I had and added a 10" Touch Screen that I'm running with OctoDash. I housed all that in an enclosure I printed. Since then I've added a bunch of plugins and made some other mods. OctoPrint has completely changed my 3D printing experience for the better!!!
Here, being guarded by Jim the Octopus, is my setup at present: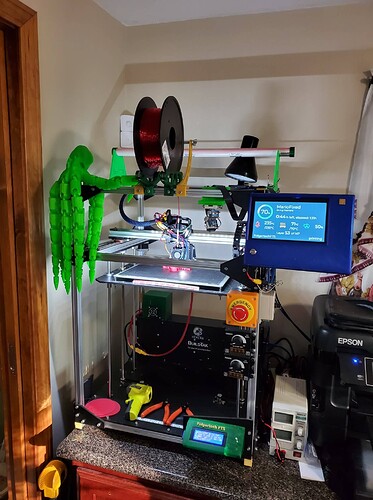 Printer: Folgertech FT5, R1 (300x300x400 build area)
Controller: MKS Gen 1.4 running Marlin 2.0
Extruder / Hot End: E3D Hemera direct drive w/0.4mm nozzle
Build Plate: BuildTak System with 110VAC Heater
Printer Server: OctoPrint 1.6.1 / Python 3.7.3 / OctoPi 0.18.0 / OctoDash
Camera: Arducam IR on a Pan/Tilt mount
Plugins: ABL Expert, Spaghetti Detective, Bed Visualizer, Dashboard, Display Layer Progress, Emergency Stop Simplified, Exclude Region, Firmware Check, M117 Speech Synthesis, OctoDash Companion, OctoPrint-IFTTT, Preheat Button, Print Time Genius, Printer Dialogs, Printer Notifications, UI Customizer, and Virtual Printer
Filaments: Mostly PETG, some PLA, and occasionally ABS
I'm looking into building an enclosure next and a spool manager cabinet over that. I'm also going to upgrade the printer frame by replacing the melamine brackets with aluminum and linking the Z axis drives.
Tom G.