For about two years now I've reasonably babysat every print job sent to my printer. Assume that a rectangular raft is being laid down. Note that I slice with relative extrusion. Also note that I have an unheated bed.

Hovering in front of the printer and waiting for the first line to be laid down (and always extruding from the front/left corner horizontally in front of me)...
Manually jiggling the print bed platform up/down so that the first line adheres in places (rather than the extruded line hovering above the print bed and not adhering)
Watching it go away from me down the right side, left, back toward me then...
It's trying to now run toward-me-and-back side-by-side loops for the first layer (but this is problematic since that first horizontal line from above got a slow start). So for each of these as it's changing direction near me I'm lifting the print bed platform slightly to force more adhesion.
Assuming that it did that happily for the first layer...
Then it's the magic moment where it needs to set up for the next layer. Only this often results in the nozzle dragging across all those laid-down lines and removing them from the print bed.
So if it did, I usually abort, pull that attempt off the bed and restart.
I've been doing a number of new upgrades to my printer in anticipation of adding a 2nd extruder and printing with PVA so I'm trying to fix these annoyances.
Sure, I'll add a heated bed soon enough but I just did something interesting by just manually editing the gcode.
I added two extruded lines across the front of the rectangle (one right and one returning to the left). This seems to fix the slow start from earlier.
I edited the gcode at the end of the first layer to raise the hotend a full 1mm before moving. (Note that I've set this already in Cura but it doesn't seem to be honoring this request.)
Given that my filament tends to dry out (since I'm close to the heater), I also added a filament conditioner (canola oil, wine cork with a hole in it and a mount for that). It seems to want a little over-extrusion to compensate but it's looking beautiful so far. And I just left it alone without all that fussing.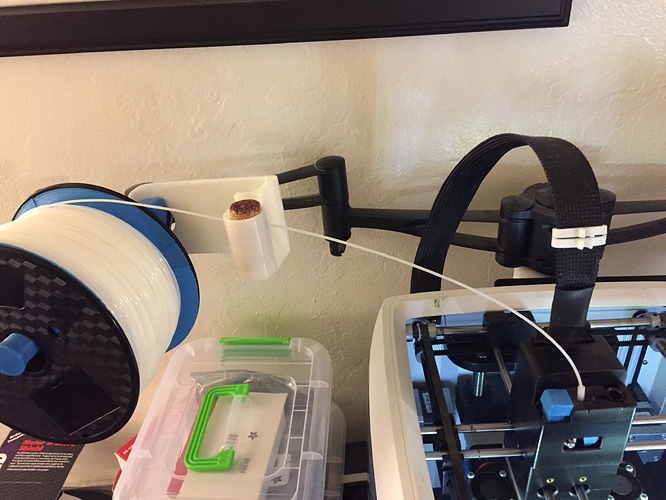 This is excellent as compared to the many failed attempts from earlier today.