Hi there
After a few trials and errors, I finally got Octoprint to work with a Polarbot (vertical drawing machine)
It wasn't that hard because the brain of the polarbot use Repetier firmware (with some modifications)
For this to work, I had to change two things in repetier and penplotter (the provided host software) so they doesn't use M0 Gcode anymore (that's only after I realized there is an option in OP to bypass this GCode)
After some preferences tuning (I don't need temperature control, GCode view is messy, etc...) here I am !
I still need to fine-tune all the process to get the GCode, right now I have to :
Optionnally, use Gimp or Photshop to split an image into severa B&W images representing the main colors
Use Drawbot2Gcode to convert bitmaps to SVG (the generated GCode is not properly dimensionned)
Use Inkscape to tune the SVG, combine colors, add text, etc...
Use Penplotter to convert the SVG into a proper GCode file
Send it/them to OP
For multicolor drawings, I use a 4 ou 10 colors pen and just switch color after each "layer"
And I can make timelapse of the whole process !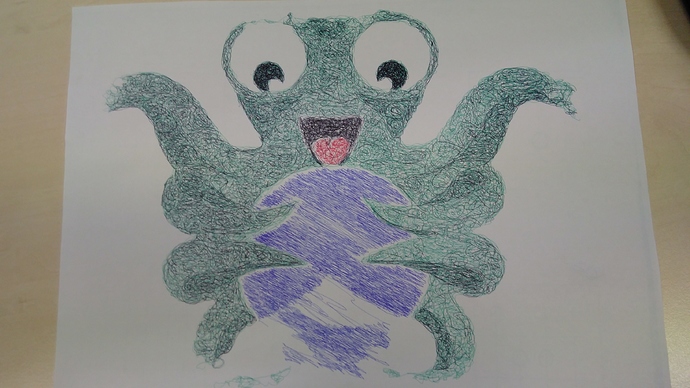 I'm pretty pleased by the results so far

So, it's not the first time but I want to thank again @foosel for Octoprint, not only it work like a charm with (most of) 3D Printers, but it's still flexible enough to work with some other type of machine.
Next challenge : try to use it to control a CNC-mill ;D