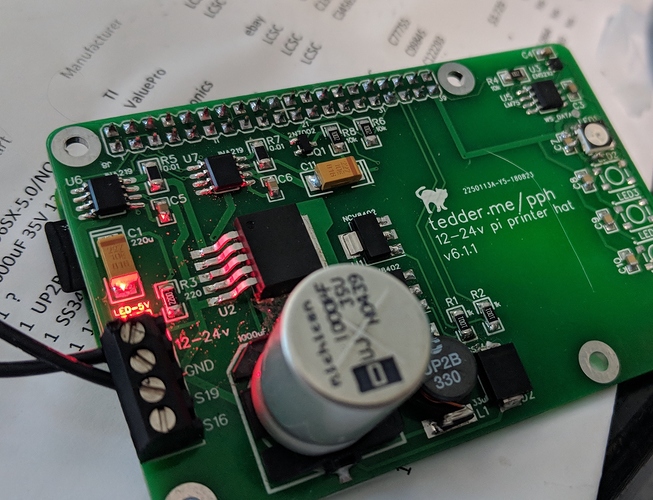 things that work:
12v or 24v input to power the Pi, including a switching power converter
huge capacitor to smooth out any voltage irregularities
Two MOSFET outputs (my MPMD will get a fan and lighting control; the Prusa will get lights and IDK)
power monitoring (watts/volts) with INA219 chips, both at the input voltage and at the 5v level (what supplies the Pi, perhaps it'll help detect undervoltage)
temperature/humidity monitoring, with both LM75 and ENS210 chips
found or wrote Python for all of these.
failure is always an option. other parts:
testbed for four WS2812 LEDs. I desoldered these, wasn't happy.
LM75 temperature sensor. Will remove from design, the ENS210 sensor has humidity, is much more accurate, and takes a smaller footprint
No surprise, I'm already designing the next version:
I'm going to remove the WS2812s and add two 8-LED bar graphs. They will come in handy for printer progress, voltage/power usage, CPU, who knows.
will add three buttons: safe poweroff, poweron, and 'BRB' to abort a print.
will probably add some status LEDs too.
Here's the software output of the monitoring chips:
Bus Voltage:    12.272 V
Supply voltage: 12.270 V
Bus Current:    118.598 mA
Power:          1277.439 mW
Shunt voltage:  2.230 mV

Bus Voltage:    4.976 V
Supply voltage: 4.981 V
Bus Current:    225.457 mA
Power:          972.561 mW
Shunt voltage:  4.320 mV

ens210 temp: 24.90
ens210 hum:  33.35
lm75 temp:   26