Hi,
I have an issue related to my Plugin "DisplayLayerProgress".
A user wants to upload via Browser (OctoPrint 1.13.12) a >50MB GCode file, but receives a "504 Gateway Timeout".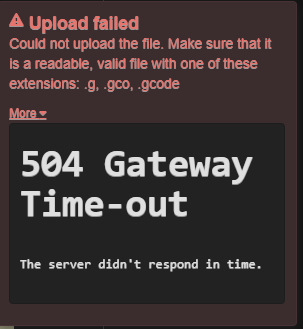 The plugin use the preprocessing hook during upload.
I could optimize the preprocessor, so 50MB could now be handled, but 100+MB is not possible.
(https://github.com/OllisGit/OctoPrint-DisplayLayerProgress/issues/101)
Is there a server configuration to increase the upload timeout?

Do you have any kind of experience regarding large gcode files (>100MB)?
Thx, in advance
Olli