Hi,
(hopping Billyblaze comes here from time to time...)
I'm developping a plugin that's intended to work with TouchUI. Works fine except one thing.
My plugin settings page has a couple of buttons with color pickers.
Clicking on these buttons brings the windows manager color picker (WM = Matchbox, IIRC), and also the virtual keyboard. The problem comes from the virtual keyboard : it is impossible to close, and focus remains on the button after closing the color picker !
The only workaround I found is scrolling up and switching to the second tab : the virtual keyboard disappears, and I finally can click OK.
This is really annoying and ruins all the work I have done !
So, the question is : does anyone know how to prevent this useless virtual keyboard to popup when opening my plugin settings page ?
I want to use the default color picker for compatibility with the standard UI.
PS : TouchUI does not use the standard color picker for its own settings, it uses another one (a "wheel" with predefined colors).
Default (Matchbox) color picker :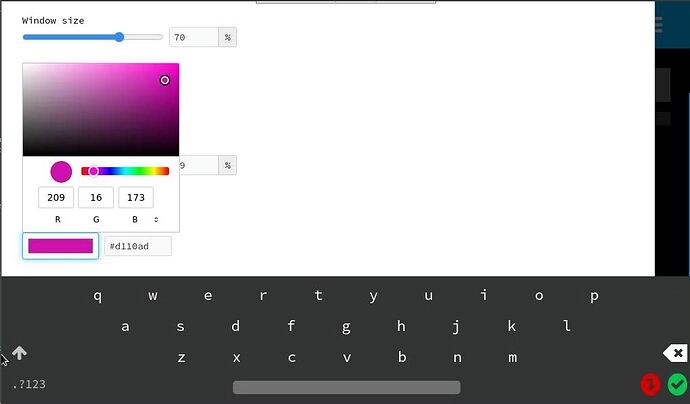 TouchUI color picker :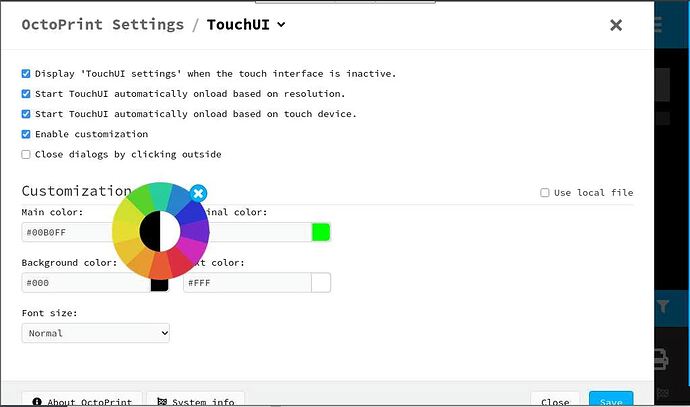 [EDIT] this virtual keyboard is from the author of TouchUI : OctoPrint-TouchUI/keyboard.js at 73665b2d6fd9d735f383339620a049771dfe0f6f · BillyBlaze/OctoPrint-TouchUI · GitHub