Hi all,
My aim is to have the Tasmota switch turn on my printer when I schedule a print using the Print Schedule Plugin. This way, I can schedule a print to start and the printer will be turned on and ready to print.
I have installed the following two plugins:
In the Tasmota device settings under the plugin configuration, I have set up the device so that it can be powered on and off using the GCODE command "M80 192.168.1.42 1". You can find more information about this in the documentation here: GitHub - jneilliii/OctoPrint-TasmotaMQTT.
You can also see a screenshot of my settings below: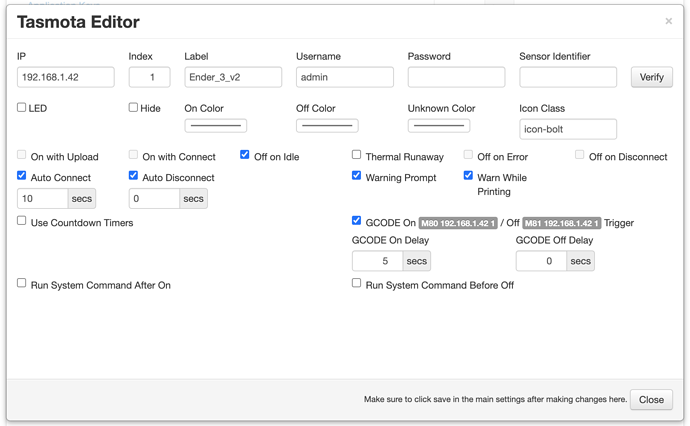 In the Print Scheduler, I have added the GCODE to the "Before Each Print" section:
M80 192.168.1.42 1 ; Turn printer on
My logic is that this GCODE will be run before the print starts, turning the printer on and connecting it in time for the print to begin.
Am I understanding this all correctly?
Thank you for your time.