The fun never stops... So I just got my xbox 360 USB receiver in the mail to go with the almost-new controller that I bought at Gamestop days before they closed their stores in California.
So I'd purchased this third controller for safety's sake since I'd purchased a used xbox 360 before lockdown ($45). Staring at it on the table I thought that I should hook this (spare controller) up to my 3D printer.
It's been way too easy.
Load driver
Adjust udev for rights
Reboot
Grab a Python module
Rock & roll
All I have to do now is to write a plugin to marry this to the G0 commands. I'm thinking...
Maybe...
Left joystick (floats) => absolute move X/Y

Lpad up/down (bool) => relative move Z (1mm)

Lpad left/right (bool) => relative move Z (0.1mm)

Right joystick (floats) => relative move X/Y from current position

Start (bool) => Home X/Y/Z

Left trigger (float) => relative retract
Right trigger (float) => relative extrude

Left bumper (bool) => unload filament (retract 130mm)

Right bumper (bool) => load filament (extrude 130mm)

Left joystick push (bool) => center extruder

Right joystick push (bool) => ?

A (bool) => Resume

B (bool) => Pause

X (bool) => Cool

Y (bool) => Preheat

Back (bool) => Cancel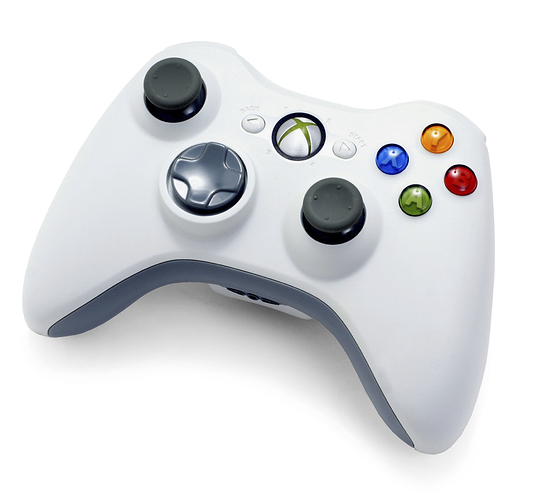 Done
[x] B (Pause)
[x] A (Resume)
[x] Back (Cancel)
[x] Start (Home XYZ)
[x] Left Bumper (unload filament)
[x] Right Bumper (load filament)
[x] Lpad up (1mm up)
[x] Lpad down (1mm down)
[x] Lpad left (0.1mm up)
[x] Lpad right (0.1mm down)
[x] X (cool extruder)
[x] Y (preheat extruder)
[x] Left joystick push (center extruder)
[x] Left joystick (absolute moves X/Y)