What is the problem?
Can't udpate to latest 1.5.3 version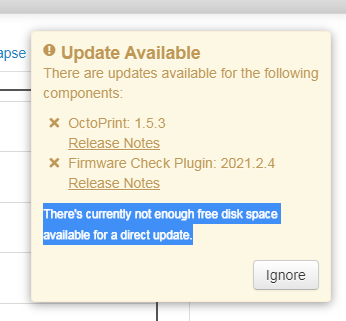 What did you already try to solve it?
Checking my free space
enlarging filesystem to whole sdcard space


Have you tried running in safe mode?
nope
Did running in safe mode solve the problem?
don't think so, will have to learn how to run it.
Complete Logs
octoprint.log (154.9 KB)
serial.log (198 Bytes)
Additional information about your setup
Raspi 3B+
16 Gb SDCard
connected to ethernet / CPL
Ender 3 @115200
TP-link HS110
16 ring neopixel
SO.
the question is : what should I do for liberate free space that the system can auto update ?