What is the problem?
The camera video is not working (not visible) on the Control Tab of Octoprint
What did you already try to solve it?
I have tried unplugging the USB camera and plugging back in. I have restored Octolapse to Defaults. I tried using a Arducam B0031 camera (which I could not get to work and am returning it). I added MultiCam Plugin hoping that migh help I have looked on this site... very confusing for a non-techie. I have asked on FB. I have blamed my wife and the kids (just joking)
Have you tried running in safe mode?
Yes, Yes it works in SAFE Mode
Did running in safe mode solve the problem?
While in Safe Mode it works
Systeminfo Bundle
You can download this in OctoPrint's System Information dialog ... no bundle, no support!)octoprint-systeminfo-20211206162900.zip (661.3 KB)
Additional information about your setup
OctoPrint version 1.7.2, OctoPi version 0.18.0, printer Prusa MK3S+/MMU2s, firmware Most current, browser Chrome Most current, operating system Windows 10, ... Octoprint on SSD drive and Samba for Windows access
**
My Plugins: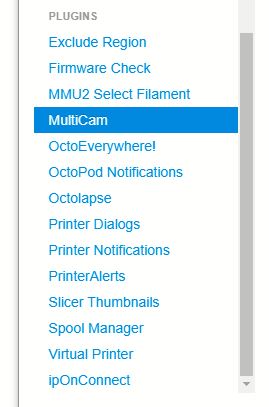 One last thing, I know very little about Linux
WRITE HERE