What is the problem?
since the last 2 Updates i have sporadic crashes and freezes. So i check the log-files:
only one line in the log file was noticeable:
octoprint.plugins.pi_support - WARNING - Fetching the current throttle state via "/usr/bin/vcgencmd get_throttled" doesn't work.
and recently after the last Update i have a pop-up-message with a not to this problem: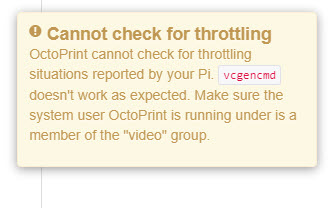 And the OP only crashes if i print via OP. If i print from SD-Card i have no crashes, and can watch the print with the cam for hours. noting happens. SO i guess theres a problem with the PI, the OS or OP. But no clue, because theres no nice logfile-info.
What did you already try to solve it?
deactivation of not needed plugins
Have you tried running in safe mode?
not yet, its a 8 hrs print
Did running in safe mode solve the problem?
unsure
Systeminfo Bundle
[octoprint-systeminfo-20220302113100.zip|attachment](upload://5JgoqjThNjDnNthEFtEkLATbgVK.zip) (14.3 KB)
WRITE HERE
Additional information about your setup
OctoPrint version, OctoPi version, printer, firmware, browser, operating system, ... as much data as possible
OP Version 1.7.3
Octopi: Version 1.0.0, running on Raspberry Pi 4 Model B Rev 1.4
printer is a Ender v3 Pro
FW ist Marlin 2.0.8.2
Browser Google Chrome