What is the problem?
New setup of Octopi on Raspberry Pi, everything is working except for the camera (attached to motherboard - checked it is correctly attached). I am able to fully control my printer, but when I click on the Control tab to see video, it says "Webcam stream not loaded" and the link it sends me to says " The webcam server is currently not running" and I follow those troubleshooting steps with no change.
What did you already try to solve it?
I have followed the directions on the Pi website including running "sudo apt update" and "sudo apt full-upgrade" and making sure camera is enabled in raspi.config. When I try to run a test image with "raspistill -v -o test.jpg" I received this error in the attached screenshot:
pi@octopi:~ $ raspistill -o Desktop/image.jpg
mmal: Cannot read camera info, keeping the defaults for OV5647
mmal: mmal_vc_component_create: failed to create component 'vc.ril.camera' (1:EN OMEM)
mmal: mmal_component_create_core: could not create component 'vc.ril.camera' (1)
mmal: Failed to create camera component
mmal: main: Failed to create camera component
mmal: Camera is not detected. Please check carefully the camera module is instal led correctly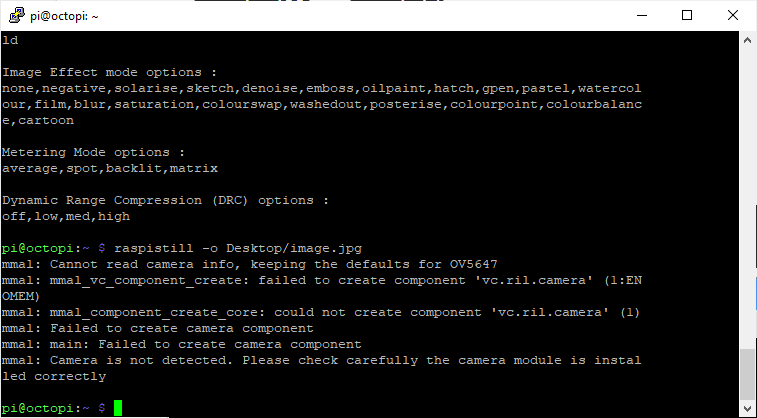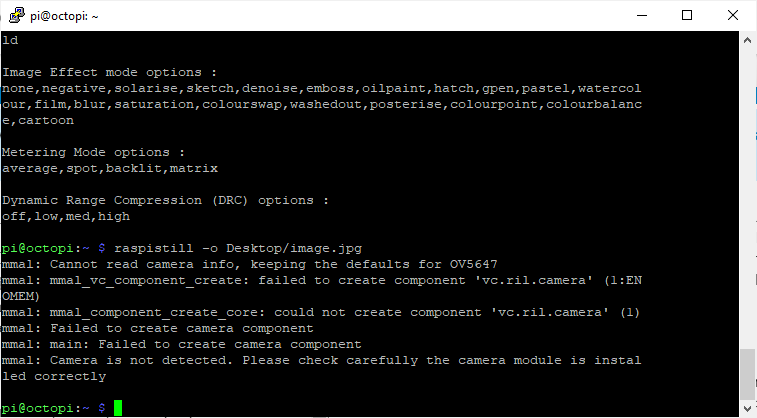 Additional information about your setup
OctoPrint 1.5.2, octopi-buster-lite-0.17.0.img, Ender 3 Pro (all original equipment)