What is the problem?
Hello, I am trying to update all application using the "Software Update" then click on Update All. But then I get " Update not started! The update could not be started. Is it already active? Please consult octoprint.log for details."
I look into the logs but I could not see anything obvious that is updating and preventing me from updating.
What did you already try to solve it?
I have tried resetting the printer, the octoprint and same problem. I also tried another backup SD card and still have the same problem.
Have you tried running in safe mode?
Yes I have multiple times but I have the same error.
Did running in safe mode solve the problem?
No.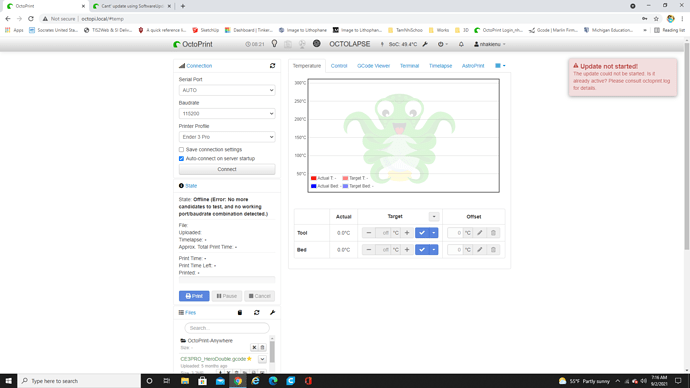 Systeminfo Bundle
You can download this in OctoPrint's System Information dialog ... no bundle, no support!)
browser.user_agent: Mozilla/5.0 (Windows NT 10.0; Win64; x64) AppleWebKit/537.36 (KHTML, like Gecko) Chrome/92.0.4515.159 Safari/537.36
connectivity.connection_check: 8.8.8.8:53
connectivity.connection_ok: true
connectivity.enabled: true
connectivity.online: true
connectivity.resolution_check: octoprint.org
connectivity.resolution_ok: true
env.hardware.cores: 4
env.hardware.freq: 1200
env.hardware.ram: 915722240
env.os.bits: 32
env.os.id: linux
env.os.platform: linux
env.plugins.pi_support.model: Raspberry Pi 3 Model B Rev 1.2
env.plugins.pi_support.octopi_version: 0.18.0
env.plugins.pi_support.throttle_state: 0x50005
env.python.pip: 20.3.3
env.python.version: 3.7.3
env.python.virtualenv: true
octoprint.safe_mode: false
octoprint.version: 1.5.3
printer.firmware: Marlin 2.0.6.1 (Sep 24 2020
Additional information about your setup
OctoPrint version, OctoPi version, printer, firmware, browser, operating system, ... as much data as possible
The snappy web interface for your 3D printer
Version 1.5.3