Camera model
Generic USB model - mjpg-streamer
What is the problem?
Live stream and snapshot picture is available, and working ok with the default octoprint-docker (haproxy) configuration. BUT the timelaps uses the same snapshot url (which is available) but it cannot be captured by the timelaps. the following error is introduced: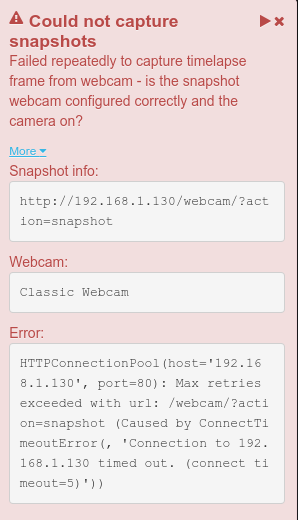 From the Classic Webcam configuration menu the snapsot url test also fails (but the stream url checker is ok)
What did you already try to solve it?
check the configurations, check for similar topics here and github.
Have you tried running in safe mode?
Yes, but not necessary
Did running in safe mode solve the problem?
No
Systeminfo Bundle
octoprint-systeminfo-20230913024436.zip (700.1 KB)
Additional information about your setup
Octoprint-docker 3.1.0 (default haproxy config) with OctoPrint 1.9.2 (with the new classic webcam implementation)