What is the problem?
Lately I've been having prints cancel because of, what I believe to be, communications errors. The first few failed prints had messages of "Printer requested line __ but no sufficient history is available, can't resend" where sent lines weren't received and portions of the received messages were missing. The past couple of failures were "Recv: start
Printer sent 'start' while printing. External reset? Aborting job since printer lost state."
I've noticed temperature variations when the communications errors start to appear before they rise to the level of cancelling the print. I'm thinking this is a voltage issue coming from the PS, but do not have an extra on hand to test. Replacing the power supply is my next step, if this seems reasonable and there isn't something else that should be tested first.
What did you already try to solve it?
I switched out the USB cable (both seem to be working, but both could conceivably have faults), disconnected my webcam, and put the Pi back on a dedicated power supply (had been on the ATX PS that powers the printer).
As a side note, this setup has been working fine since I last modified/moved it ~8 months ago.
Additional information about your setup (OctoPrint version, OctoPi version, printer, firmware, octoprint.log, serial.log or output on terminal tab, ...)
OctoPrint version: 1.3.9
Printer: modified Folger Tech Kossel running Marlin (would need to check the version)
Image of the temperature variations: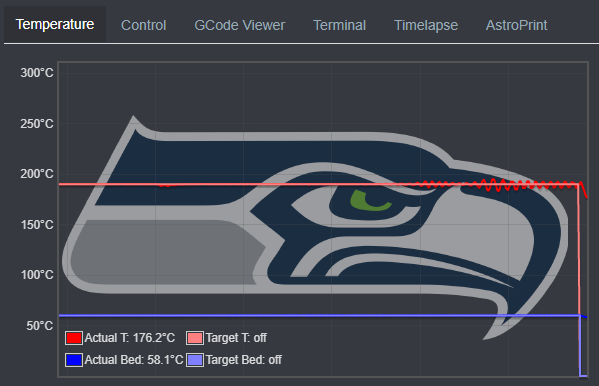 Log files: serial (2).log (559.3 KB)
Have the octoprint.log, but can only include one attachment.
Thank you for any assistance!