I found and read your post on Feb 15 about a Communication error where you told them to replace G28 x Y:Home XY with G28 X0 Y0;Home XY.
I use Simply3D so I went in to it and went to the Start script and replaced G28;Home all axis which is what was in mine script to G29 X0 Y0;Home XY but I still get the same error when I tried to print the file.
I can connect my pi/Octoprint with no problem to my printer which is a one day old Monoprice Make Select Pro Ultimate 3D Printer. I can control and move X,Y,Z, the extruder and turn the bed and hot end heat on and off.
This is the error I get-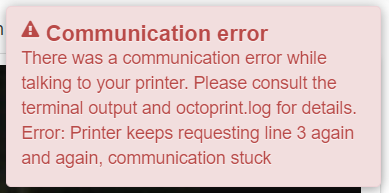 I am really at a lose This is my fifth printer all my printers have their own Raspberry PI 4 B with 4Gigs of ram and are running the latest version of Octoprint.
octoprint (2).log (27.1 KB)
Please let me know if there is anything I can do to help - I really need to get this working or know if I need to return this printer.
Thanks
Ashby