Heavily influenced by OctoDash, I've been thinking about a dashboard plugin to display relevant printer/job status.
Purpose; It would be nice to have a dashboard in OctoPrint that gives a clear and concise overview of the current printer/print state.
Motivation: Connection, temp and printjob status is spread out over multiple menus and tabs so I have to browse around to learn what's going on.
Suggestion: Make a new "dashboard/status/home" tab that provides the most important info and make it default when opening OctoPrint.
Mockup: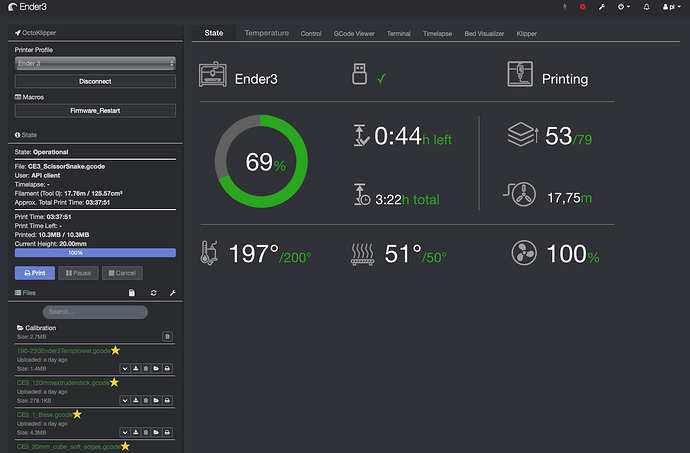 Explanation, top-down, L>R:
[printer section] (always displayed)
Printer Profile
Connection state
Printer Status (only displayed if Connection state = Connected)
[Job section] (only displayed if Printer Status = printing or paused)
Job progress
Time left (leveraging printtimegenious if installed)
Layer (or height, depending on user setting)
Estimated total print time (leveraging printtimegenious if installed)
Estimated material to be used in m (or g, depending on user setting)
["Sensor" section], (displayed depending of if connection status = connected)
Toolhead(s) Temp
Bed Temp
Fan Speed
Would this be possible to develop as a plugin?