What is the problem?
The image created for octopi by the imager doesn't work.
What did you already try to solve it?
Tried on known good Raspberry Pi 3 B+.
Tried a different sd card
Have you tried running in safe mode?
Not sure what that means.
Did running in safe mode solve the problem?
See above
Systeminfo Bundle
This is from the old Octoprint I am trying to replace / upgrade:
browser.user_agent: Mozilla/5.0 (Macintosh; Intel Mac OS X 10_15_7) AppleWebKit/605.1.15 (KHTML, like Gecko) Version/14.1.2 Safari/605.1.15
connectivity.connection_check: 1.1.1.1:53
connectivity.connection_ok: True
connectivity.enabled: True
connectivity.online: True
connectivity.resolution_check: octoprint.org
connectivity.resolution_ok: True
env.hardware.cores: 4
env.hardware.freq: 1200.0
env.hardware.ram: 918192128
env.os.bits: 32
env.os.id: linux
env.os.platform: linux2
env.plugins.pi_support.model: Raspberry Pi 3 Model B Rev 1.2
env.plugins.pi_support.octopi_version: 0.15.1
env.plugins.pi_support.throttle_state: 0x0
env.python.pip: 9.0.3
env.python.version: 2.7.13
env.python.virtualenv: True
octoprint.safe_mode: False
octoprint.version: 1.7.0rc2
systeminfo.generator: zipapi
Additional information about your setup
I was running Octoprint on Octopi before when my Anet A8 was working. I just got a new Neptune 2 printer an want to set up Octoprint again.
The old version runs, but it's way back level and seems to be missing stuff like the plugin manager.
I created a brand new card as directed on the Octoprint installation instructions. I double checked my wifi settings and they seem correct.
When I put the new sd card in the Pi it doesn't connect to WiFi. The same pi with the old card does.
As I said above the old system just doesn't look right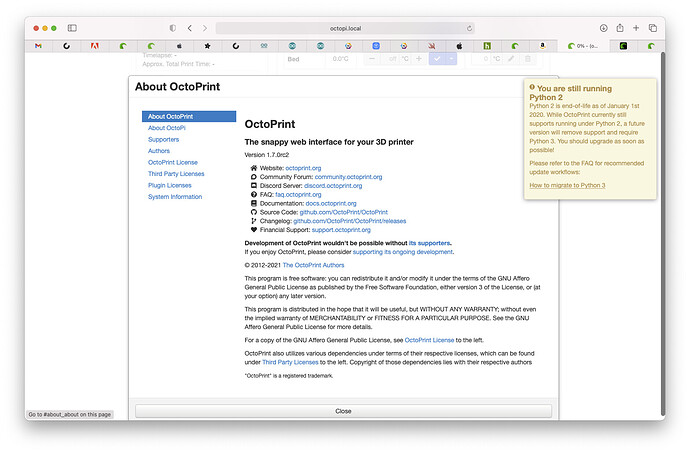 The old one is Octoprint Version 1.7.0rc2. Octopi is Version 0.15.1, running on Raspberry Pi 3 Model B Rev 1.2
It's been a while since I've used Octoprint, and I don't remember how to bring up the plugin manager and it's not obvious. Is it hiding somewhere.
Any suggestions on how to either troubleshoot the new card or safely update the new one would be gratefully appreciated.