What is the problem?
Since the last update of my OctoPi, the filiament calculator no longer works.
I get the following error message: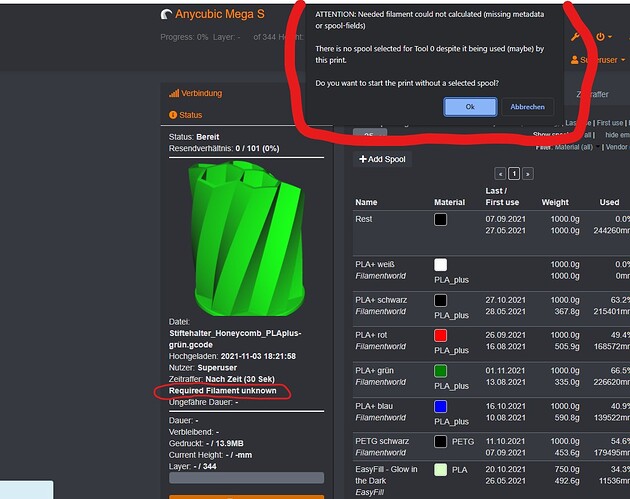 Does anyone have an idea where I should look to fix the error?
The PrintTimeGenius plugin has also stopped working properly since then (it no longer calculates the time after uploading).
What did you already try to solve it?
WRITE HERE
Have you tried running in safe mode?
No
Did running in safe mode solve the problem?
No
Systeminfo Bundle
browser.user_agent: Mozilla/5.0 (Windows NT 10.0; Win64; x64) AppleWebKit/537.36 (KHTML, like Gecko) Chrome/95.0.4638.69 Safari/537.36
connectivity.connection_check: 192.168.2.96:53
connectivity.connection_ok: true
connectivity.enabled: true
connectivity.online: true
connectivity.resolution_check: octoprint.org
connectivity.resolution_ok: true
env.hardware.cores: 4
env.hardware.freq: 1400
env.hardware.ram: 914001920
env.os.bits: 32
env.os.id: linux
env.os.platform: linux
env.plugins.pi_support.model: Raspberry Pi 3 Model B Plus Rev 1.3
env.plugins.pi_support.octopi_version: 0.18.0
env.plugins.pi_support.throttle_state: 0x0
env.python.pip: 21.0.1
env.python.version: 3.7.3
env.python.virtualenv: true
octoprint.safe_mode: false
octoprint.version: 1.7.2
printer.firmware: Marlin 1.1.0-RC8 (Github)
systeminfo.generator: systemapi