What is the problem?
Before a print is started the hot-end temperature is consistently at 200C as reported by Octoprint. However, once a print is started the temp drops to around 160C and not consistent. This creates very under extruded prints. I can't remember the last time I had a good print. This was definitely happening last summer and I gave up printing until picking it up again now.
Here is the temp graph: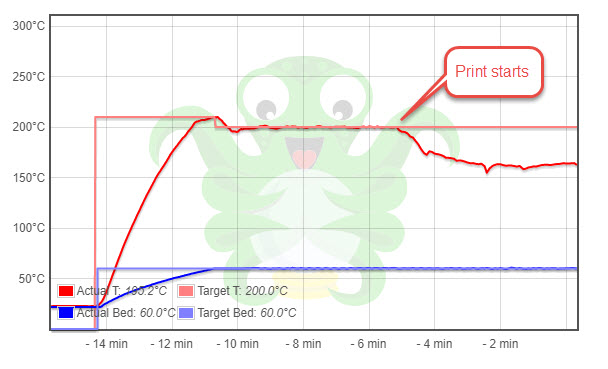 What did you already try to solve it?
Research suggested carrying out an auto-tune and then updating the printer PID values. This isn't something I have ever done before. After the first auto-tune the values came back as:
P=36.14, I=1.76, D=185.83
I updated a gcode file with these values but it made no difference so I carried out a second auto-tune. This time the values came back as:
P=26.50, I=1.17, D=150.33
Again, it made no difference to the print. I guess to me it seems like it probably isn't a PID issue but perhaps something more mechanical/physical with the printer.
Have you tried running in safe mode?
Yes
Did running in safe mode solve the problem?
No
Systeminfo Bundle
browser.user_agent: Mozilla/5.0 (Windows NT 10.0; Win64; x64) AppleWebKit/537.36 (KHTML, like Gecko) Chrome/91.0.4472.124 Safari/537.36
connectivity.connection_check: 1.1.1.1:53
connectivity.connection_ok: true
connectivity.enabled: true
connectivity.online: true
connectivity.resolution_check: octoprint.org
connectivity.resolution_ok: true
env.hardware.cores: 4
env.hardware.freq: 1200
env.hardware.ram: 917016576
env.os.bits: 32
env.os.id: linux
env.os.platform: linux2
env.plugins.pi_support.model: Raspberry Pi 3 Model B Rev 1.2
env.plugins.pi_support.octopi_version: 0.17.0
env.plugins.pi_support.throttle_state: 0x50000
env.python.pip: 19.3.1
env.python.version: 2.7.16
env.python.virtualenv: true
octoprint.safe_mode: false
octoprint.version: 1.6.1
systeminfo.generator: systemapi
Additional information about your setup
OctoPrint version, OctoPi version, printer, firmware, browser, operating system, ... as much data as possible
Printer = Malyan M150
Octoprint version: 1.6.1
Any help is appreciated.
Thanks.