What is the problem?
For a while my Ender 3 pro Hotend doesn't stabelize on the temperature I set it to.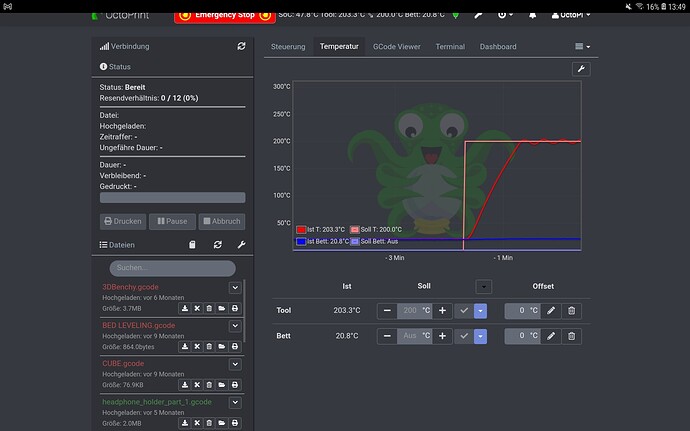 What did you already try to solve it?
I already ran the PID Autotune, checked the thermometer and heating block for any visual problemes and tryed to run it in
Did running in safe mode solve the problem?
No
Systeminfo Bundle
You can download this in OctoPrint's System Information dialog ... no bundle, no support!)
octoprint-systeminfo-20221016145612.zip (71.2 KB)
browser.user_agent : Mozilla/5.0 (Linux; Android 8.1.0; SM-T580) AppleWebKit/537.36 (KHTML, like Gecko) Chrome/106.0.0.0 Safari/537.36
connectivity.connection_check : 1.1.1.1:53
connectivity.connection_ok : true
connectivity.enabled : true
connectivity.online : true
connectivity.resolution_check : octoprint.org
connectivity.resolution_ok : true
env.hardware.cores : 4
env.hardware.freq : 1400
env.hardware.ram : 915718144
env.os.bits : 32
env.os.id : linux
env.os.platform : linux
env.plugins.pi_support.model : Raspberry Pi 3 Model B Plus Rev 1.3
env.plugins.pi_support.octopi_version : 0.18.0
env.plugins.pi_support.throttle_check_enabled : true
env.plugins.pi_support.throttle_check_functional : true
env.plugins.pi_support.throttle_state : 0x0
env.python.pip : 20.3.3
env.python.version : 3.7.3
env.python.virtualenv : true
octoprint.last_safe_mode.date : 2022-10-16T13:04:25Z
octoprint.last_safe_mode.reason : settings
octoprint.safe_mode : true
octoprint.version : 1.8.4
printer.firmware : Marlin Creality 3D
systeminfo.generated : 2022-10-16T13:12:43Z
systeminfo.generator : systemapi
Additional information about your setup
OctoPrint version, OctoPi version, printer, firmware, browser, operating system, ... as much data as possible
OctoPrint: 1.8.4
Python: 3.7.3
OctoPi: 0.18.0, running on Raspberry Pi 3 Model B Plus Rev 1.3
Printer: Ender 3 Pro
Mainboard: Not sure but I think it's 4.2.7
Firmware: Marlin Creality 3D