Hello.
I'm running Octoprint 1.4.0 on a Raspberry Pi
I don't know if my problem occur long time ago but I'm using the same slicer (Simplify3D).
When printing, my current height and layer are not displayed :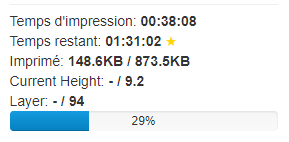 My GCode look good :
G92 E0
G1 E-1.2000 F2400
G1 Z0.100 F1200
; process Process1
; layer 1, Z = 0.100
; layer 93, Z = 9.300
; layer 94, Z = 9.400
; layer end
M104 S0 ;Chauffage de l extrudeuse eteint
M140 S0 ;Chauffage plateau eteint
Can anyone can help me ?
Thanks.