What is the problem?
am trying to use the M0 command to pause the printer at the required height to change the filament. However, when it is in G-code M0, the printer does not pause but displays: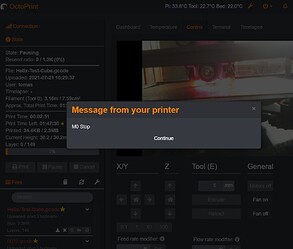 when I press continue, the printer uses a pause script.
I want the printer to automatically use the pause script during the pause, and I don't have to manually press continue.
(Sorry for my English)
What did you already try to solve it?
I tried to change the pause command to M25. It didn't help.
Have you tried running in safe mode?
no.
Did running in safe mode solve the problem?
I dont know.
Systeminfo Bundle
octoprint-systeminfo-20210721225233.zip (89.8 KB)