serial.log (296 Bytes)
I know very little about RPis. More of a ESP user myself....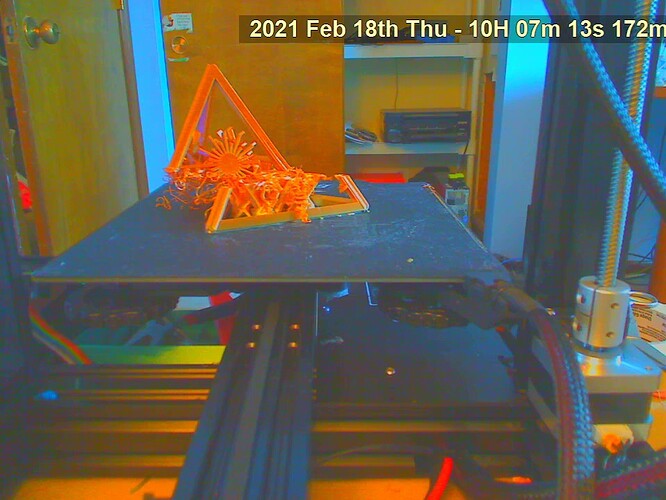 A HUGE single layer shift, not a gradual shift but cleaved. Only occurs once and printed fine on thin air next to the model after that. It doesn't slide off the bed as it was stuck and I had it on camera (not a pi camera, just unassotiated IP cam). Its as if it went from abs to relative positioning and I didn't send any M91 or whatever it is. I was asleep.No one seems to have this particular issue - most have many small shifts due to a loose belt. My belts are tight to a bass D note when you pluck them. This is a 1-2" X+Y shift. One was Diagonal, the other was mostly +X.
I printed two things. It only occurs at 5 hours in so I couldn't do much troubleshooting. Obviosuly right now I am printing from SD card and see if it re-occurs. I fear that it will print fine and implicate a tool I love - octoprint. The power supply seems OK. Belts are tight. No odd noises other than some filament slippage squeal, I do have a wipe for the filament.
Logs - It would not take a 1.9MB octoprint.log despite limit being 4096k. You get serial.log.
Additional information about your setup (OctoPrint version, OctoPi version, ...) Cura 4.8 and Octoprint 1.5.3 on new RP 3 B+.