What is the problem?
Just got a new Pi 4 and set it up with octoprint this week.
My Ender 3 hasn't encountered layer shifting before this but it seems to be shifting at the same position each time I try to print benchy.
What did you already try to solve it?
I searched the forum and found that maybe changing interval polling could help so I tried that, It didn't work, I also made sure all my belts were tensioned properly and that nothing was skipping (even though prints before octoprint were fine). for the second attempt I tried disabling octolapse with no luck. Finally I turned on safe mode and enabled serial.log and the same problem happened a third time which is when I decided to come ask for help.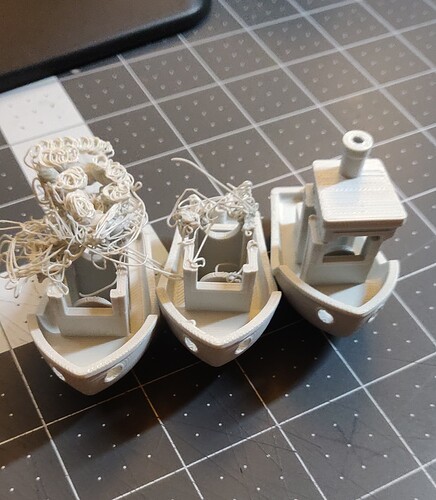 Have you tried running in safe mode?
Yep, my last attempt was with safemode
Did running in safe mode solve the problem?
Sadly it did not

Complete Logs
Additional information about your setup
OctoPrint version, OctoPi version, printer, firmware, browser, operating system, ... as much data as possible
Octoprint Version: 1.5.3
Raspberry Pi 4 Model B - 4GB
Plugins: Just Octolapse
Printer: Ender 3 Pro
Slicer: Ultimaker Cura 4.8.0
Brave Browser on Windows 10
This is a fresh installation of Octoprint on a brand new Pi 4 (my first foray into Pi tinkering) so I'm hoping this is just something dumb I missed in the initial setup. Thanks for making it all the way down this post! I hope I shared enough info because I'm totally stuck and really need the help.
I guess on the bright side, I have two convertible Benchys if anyone wants one