What is the problem?
Once my 3d printer is printing, my dashboard quickly fills with notifications: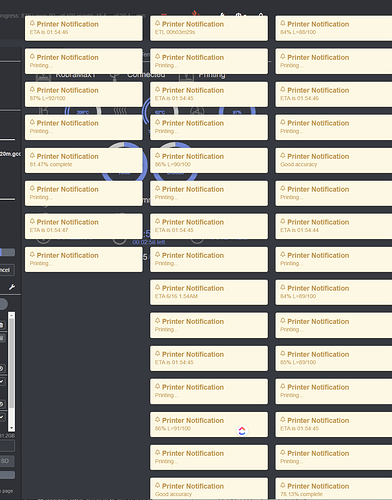 What is the setting to control which notifications are shown, how frequently it's polled etc?
It could be a plugin?
What did you already try to solve it?
Restart service/ refresh page clears them on the browser, but they quickly reappear.
Have you tried running in safe mode?
no
Did running in safe mode solve the problem?
Systeminfo Bundle
You can download this in OctoPrint's System Information dialog ... no bundle, no support!)
octoprint-systeminfo-20230616020354.zip (140.8 KB)
Additional information about your setup
OctoPrint version, OctoPi version, printer, firmware, browser, operating system, ... as much data as possible
OctoPrint 1.9.0
Running on a LXC within Proxmox.
Kobra Max on wrabbit
Brave browser
Windows 11