What is the problem?
Part way through a print, the nozzle and bed temps go to zero. Yet printer continues going (well tries to). This has happened 2 times in the past week. Using Cura and Snapmaker A250. The octoprint temp graph shows this drop, but there are no warnings, etc. Just keeps on (air) printing.
I don't know what is causing the temps to cut off, and would desperately like to resole this. But isn't there any setting in OctoPrint to stop, alert, etc. when such a situation occurs? I've looked through the plug ins, but only see things for over-temp, not under temp.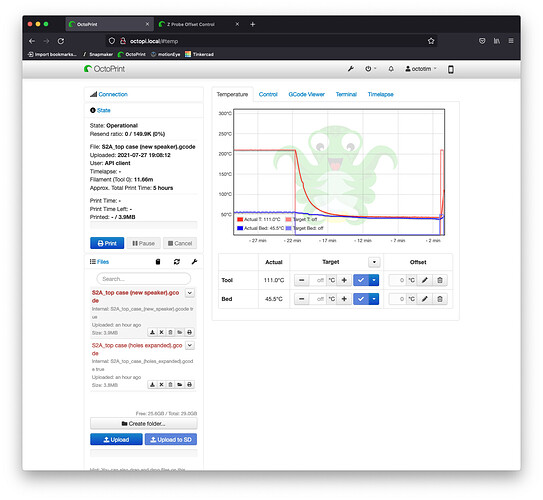 What did you already try to solve it?
Nothing, re-ran the print.
Have you tried running in safe mode?
No
Did running in safe mode solve the problem?
n/a
Systeminfo Bundle
browser.user_agent: Mozilla/5.0 (Macintosh; Intel Mac OS X 10.14; rv:90.0) Gecko/20100101 Firefox/90.0
connectivity.connection_check: 1.1.1.1:53
connectivity.connection_ok: true
connectivity.enabled: true
connectivity.online: true
connectivity.resolution_check: octoprint.org
connectivity.resolution_ok: true
env.hardware.cores: 4
env.hardware.freq: 1500
env.hardware.ram: 3959984128
env.os.bits: 32
env.os.id: linux
env.os.platform: linux
env.plugins.pi_support.model: Raspberry Pi 4 Model B Rev 1.4
env.plugins.pi_support.octopi_version: 0.18.0
env.plugins.pi_support.throttle_state: 0x0
env.python.pip: 21.1.3
env.python.version: 3.7.3
env.python.virtualenv: true
octoprint.safe_mode: false
octoprint.version: 1.6.1
systeminfo.generator: systemapi
Additional information about your setup
Octoprint 1.6.1, Cura 4.9.1, Snapmaker V.12.1