What is the problem?
When printing from Octoprint the nozzle/build plate stops moving for a few seconds randomly for 4-6 seconds. I decided to let it print than after a while my main board(not the LCD) started making an alarm noise. I get a weird message in the terminal screenshot included.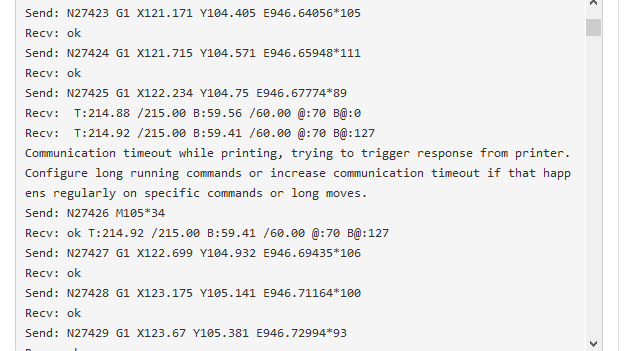 What did you already try to solve it?
I have tried using different USB cables,printing off an SD card unconnected from Octoprint(that worked), and re-installing Octopi.
Have you tried running in safe mode?
I have tried safe mode.
Did running in safe mode solve the problem?
It didn't solve the issue because didn't install plugins on the new image.
Complete Logs
octoprint.log, serial.log or output on terminal tab at a minimum, browser error console if UI issue ... no logs, no support! Not log excerpts, complete logs.)
Here are my logs. octoprint.log (1.7 MB) serial.log (296 Bytes)
Additional information about your setup
OctoPrint version, OctoPi version, printer, firmware, browser, operating system, ... as much data as possible
I am running an SKR Mini E3 v1.2 and raspberry pi 4b 2gb of ram with a fresh install of Octopi on an ender 3.