What is the problem?
The octoprint Server crashed after working on the "System Command Editor" plugin.
I tried to add some commands into the "System Command Editor" plugin, but it didn´t work. After a reboot of octoprint, the new commands where gone. I tried this several times and during one of the reboots, the server crashed and is not running any more.
The webgui is shown that: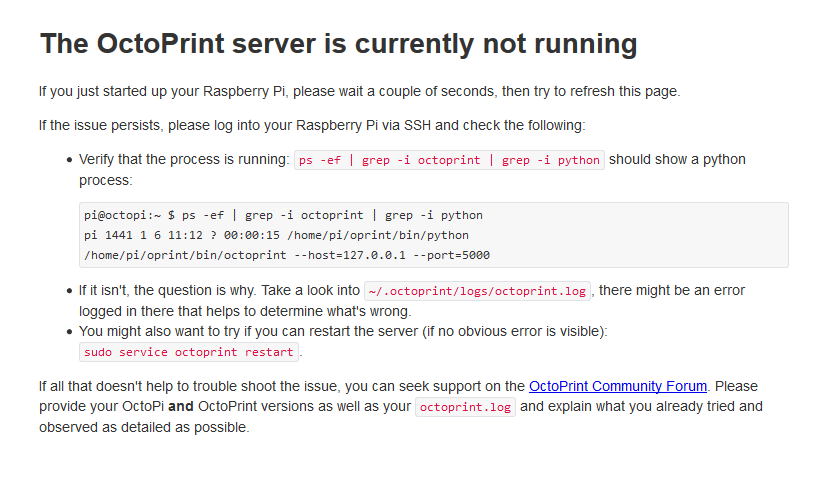 What did you already try to solve it?
The ssh-login is still working, so I tried to verify that the process is running (as requested in the picture above):
There is no python process showing up.
I checked the octoprint.log and found the following line:
"octoprint.server - CRITICAL - Now that is embarrassing... Something really really went wrong here. Please report this including the stacktrace below in OctoPrint's bugtracker. Thanks!
2018-10-24 14:07:37,711 - octoprint.server - ERROR - Stacktrace follows:"
The octoprint.log ist attached.
I tried a reboot of octoprint and a reboot of the RasPi - both did not help. I am not able to get the octoprint-server running again.
Additional information about your setup (OctoPrint version, OctoPi version, printer, firmware, octoprint.log, serial.log or output on terminal tab, ...)
I´m am running
Octoprint Version: 1.3.9
OctoPi Version: 0.15.1
on RasPi 3 B+
Has anyone an idea, what´s going on?
thanks in advance,
matze
octoprint.log (10.7 KB)