I've just created a plugin which in theory should allow..
...someone with a Raspberry Pi 3B...
...to programmatically control their USB ports two through five to toggle their 5V power. It uses uhubctl to do this work behind-the-scenes.
Spoiler Alert: The author of uhubctl doesn't think his code works that well on a Raspi2B/3B.
I could use some people who wouldn't mind testing this on their own setups, noting that this is not intended for anything other than a Raspberry Pi 3B.
Preferably, I would welcome anyone who has had past experience using uhubctl, knows how it works and has perhaps used it before to control something from the Pi. If you're testing this, you should be comfortable remoting into your Pi, for example. And most importantly, you should

to read documentation (all eleventy-hundred pages of it).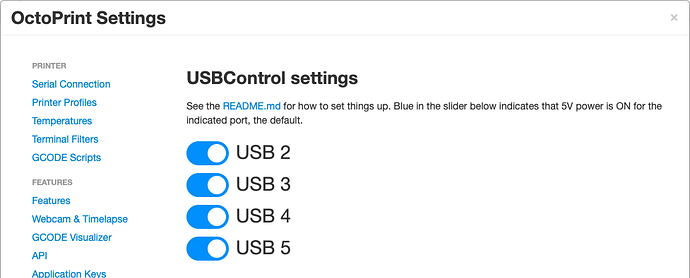 I haven't seen all the plugins out there but this one feels innovative in its approach, to me at least.