What is the problem?
Octoprint keeps using more and more RAM, looks like there's something that's leaking.
This screenshot taken while I was looking at the webcam page, before typing this post: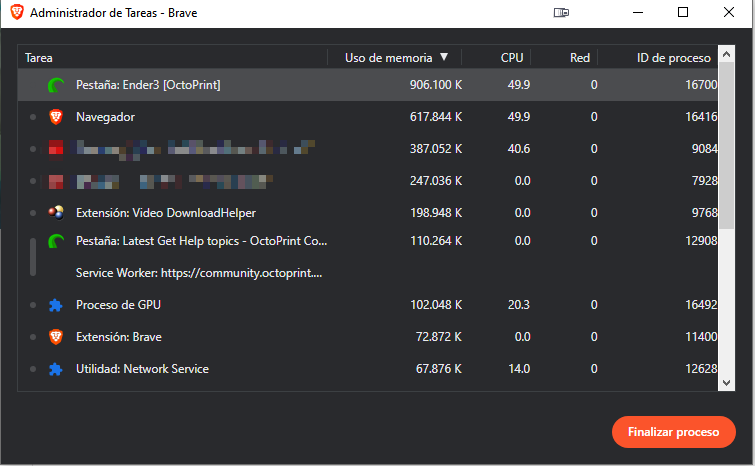 These are my installed plugins:
ABL Expert Plugin (0.6)
Autoscroll (0.0.3)
Bed Visualizer (0.1.13)
BLTouch Plugin (0.3.3)
Cancel Objects (0.4.1)
Change Filament Plugin (0.3.0)
Cost Estimation (2.1.3)
Custom Control Editor (0.2.2)
DisplayProgress (0.1.3)
DryRun Plugin (1.2.0)
Filament Manager (0.5.3)
FileManager (0.1.4)
Floating Navbar (0.3.1)
GcodeEditor (0.2.8)
HeaterTimeout (0.0.1)
LayerDisplay (0.4.3)
Navbar Temperature Plugin (0.14)
Preheat Button (0.5.1)
PrinterAlerts (0.7.4)
PrintTimeGenius Plugin (2.2.2)
Remove /dev/ttyS* ports (0.1.0)
System Command Editor (0.3.4)
Tab Order (0.5.7)
Telegram Notifications (1.5.0)
Themeify (1.2.2)
Tuya Smartplug (0.2.3)
Upload Anything (1.0.1)
I'm sure I can uninstall some unused plugins...
How could I identify what is causing the alleged memory leak? It really looks like it happens when I leave the webcam / control page up to monitor my print, and not any other page.
In the time it took to write this down, the web interface is already using over a GB of memory:


I understand the high CPU usage because I'm watching the webcam, and it's largely reduced when I change the page to the temp page or some other page... but the memory doesn't get flushed and it keeps increasing.
Further info:
If I go to http://octopi.local:8080/ I just see a snapshot and the webcam stream, but RAM usage doesn't get pass 60 MB even after a while waiting to see what happens.
What did you already try to solve it?
Not much really, I used regular old Chrome and it did the same thing. Firefox doesn't even load lol
Logs
octoprint (1).log (27.6 KB)
Additional information about your setup
OctoPrint 1.4.0 running on OctoPi 0.17.0
Brave Browser (Chromium based)
Windows 10 Ver 1909 (18363.836)