When I connect Octoprint, I believe it recognizes the printer as a serial interface but all the controls are greyed out. When I run dmesg I get:
[ 1068.322559] ch341 1-1.4:1.0: device disconnected
[ 1079.647973] usb 1-1.4: new full-speed USB device number 7 using xhci_hcd
[ 1079.784005] usb 1-1.4: New USB device found, idVendor=1a86, idProduct=7523, bcdDevice= 2.64
[ 1079.784021] usb 1-1.4: New USB device strings: Mfr=0, Product=2, SerialNumber=0
[ 1079.784030] usb 1-1.4: Product: USB Serial
[ 1079.786661] ch341 1-1.4:1.0: ch341-uart converter detected
[ 1079.792162] usb 1-1.4: ch341-uart converter now attached to ttyUSB0
I can't get any reaction from the printer.
(See below) It is an Ender 5 pro, with the 4.2.7 mainboard, running default Marlin firmware. I'm pretty new to this, if you need any more info, I'm happy to share, thanks!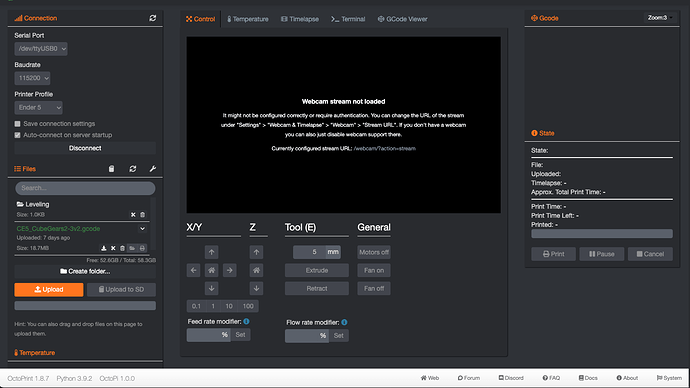 octoprint-systeminfo-20230415075622.zip (905.8 KB)