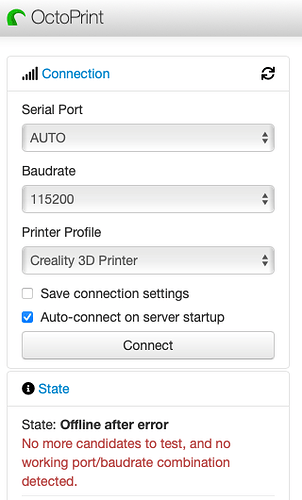 What is the problem?
My creality ender 3 pro printer stopped working mid print for the first time in 2 years and I cant connect anymore
What did you already try to solve it?
Tried restarting everything but didnt work
Have you tried running in safe mode?
Have not tried to run it in safe mode, dont even know what that is.
Did running in safe mode solve the problem?
Read above
Systeminfo Bundle
You can download this in OctoPrint's System Information dialog ... no bundle, no support!)
browser.user_agent: Mozilla/5.0 (Macintosh; Intel Mac OS X 10_15_7) AppleWebKit/605.1.15 (KHTML, like Gecko) Version/14.1.1 Safari/605.1.15
connectivity.connection_check: 1.1.1.1:53
connectivity.connection_ok: true
connectivity.enabled: true
connectivity.online: true
connectivity.resolution_check: octoprint.org
connectivity.resolution_ok: true
env.hardware.cores: 4
env.hardware.freq: 1500
env.hardware.ram: 1979641856
env.os.bits: 32
env.os.id: linux
env.os.platform: linux2
env.plugins.pi_support.model: Raspberry Pi 4 Model B Rev 1.2
env.plugins.pi_support.octopi_version: 0.17.0
env.plugins.pi_support.throttle_state: 0x0
env.python.pip: 19.3.1
env.python.version: 2.7.16
env.python.virtualenv: true
octoprint.safe_mode: false
octoprint.version: 1.6.1
systeminfo.generator: systemapi
Additional information about your setup
OctoPrint version, OctoPi version, printer, firmware, browser, operating system, ... as much data as possible
Terminal has this:
Changing monitoring state from "Offline" to "Detecting serial connection"
Performing autodetection with 0 port/baudrate candidates:
Changing monitoring state from "Detecting serial connection" to "Error"
Changing monitoring state from "Error" to "Offline after error"
Thank you.