What is the problem?
After a print is finished the Printhead moves to the parking position and shows "mmu needs user atention" and stops. A push on the knob ramps up the temps again and sometimes magical finish the job. But this keeps happening not only since the newest updates, it's there for about 3-4 mounths now. It occours on single and multiprints. I can't see any pattern at the moment. I'm not that hardcore printer user and not that experienced yet, but please advice me to test - I will do it. Just need a little time.
What did you already try to solve it?
Change firmware from printer, updated to several versions of octoprint/octopie
Have you tried running in safe mode?
No.
Did running in safe mode solve the problem?
Not tested yet.
Systeminfo Bundle
attached
octoprint-systeminfo-20211103064738.zip (3.2 MB)
Additional information about your setup
OctoPrint 1.7.1
Python 3.7.3
OctoPi 0.18.0
Prusa Slicer 2.3.3
Prusa MK3S+ -> FIRMWARE 3.10.0
MMU2S -> FIRMWARE 1.0.6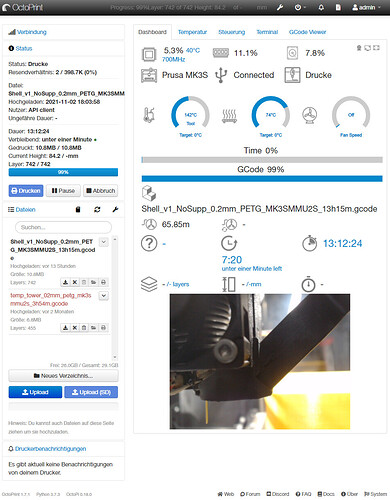 octoprint.log