Hi, new user here with some basic questions.
Print queue. Is there a print queue? I sometimes send directly from Prusa Slicer when printer not on. Then go to turn printer on and connect from Octoprint. But it doesn't print. So I then need to send another print. Not sure if the first was received or what is happening exactly.

Print Diary. I keep a OneNote file containing all my printer settings and notes for each print, so I can keep track of revisions of the various parts and projects I'm working on. Is there some means within Octoprint to store print history and attach notes?

Uploading to memory card. I understand I can export from e.g. PrusaSlicer and drag the file onto Octoprint to choose to upload to file or the server file system. I like to print directly from PrusaSlicer, but I'd prefer the file to eventually get stored on the SD card in the printer as well. I can't find how to move a file from local to SD card, within Octoprint. Is there a way to do that?

SD Card filenames. This seems really silly. My printer shows me the whole filename (long filenames) and sorts by date order descending, i.e. latest files first. However the shortened filename is useless in Octoprint, and also I can't sort by descending. How can I view the full filename? I had even hoped to be able to store some notes with each file, i.e. "this is the latest version of the gromit, with a slimmer profile" etc... is that possible somehow?

Notifications. I have installed the MQTT extension and hooked it up with Node-RED to inform me by email of when my prints start and finish, by pulling out the status_id="FINISHING" and STARTING. Is there a better way to do this? Are there any other interesting integrations others have done with Node-RED? Obvs the sky's the limit, re graphing, dashboards, etc....

Cameras. I've tried an old integrated webcam taken out of a laptop (soldered to a USB cable and tested in Windows), and a USB microscope cam. Neither work right off the bat. It is impossible to purchase a webcam here in the UK at the moment, literally nowhere has them (thanks COVID-19). So I bought a Pi camera. I'd like to have one cam on the bed, and one looking at the whole printer to ensure spools aren't tangling or anything else going wrong. I have seen a video about having multiple cameras - it looks a real hassle. Is there a clever way to do this with the latest version of Octoprint? Any other clever ways?

The estimated time is way off. I've seen posts around this and other forums. My current print has 30mins remaining from a 2 hour print, and Octoprint says it has 2h30 remaining! Surely it can't be this inaccurate? Why can't Octoprint read the estimated time from my Prusa Printer? Surely this is one of the whole reasons to have Octoprint, to monitor print progress of a remote printer?

Please can you help me understand the gcode visualisation stats? Here it says Model Info > Estimated Print Time = 2.5 hours (correct). Why is this number correct when the estimated time (as mentioned above) is so wildly out? Layers with extrusion = 81. Then under Layer Info, Layer Number = 24 and estimated print time = 00:01:04. What do all these numbers mean? They don't seem to correlate to anything to do with this print, except that 2.5h one. Although my print does have bits that stick out (ie much higher than the rest and will print quickly at the end) it doesn't seem to add up as I know the height of these bits are a maximum of twice as high as the stuff done so far. the below pic will explain: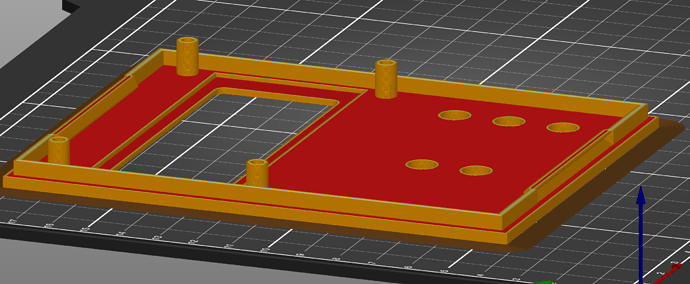 Thanks!