Dearall,
perhaps this could be a continuation of my discussion from My extruder likes a particular location

:
What is the problem?
There is a random (i.e. not always at the same z-height) failure when printing this model - you can see below the results of two trials next each other. The failure is a clear shift in y-direction of the print. The orange took longer before being detected, while the yellow one has been immediately stopped.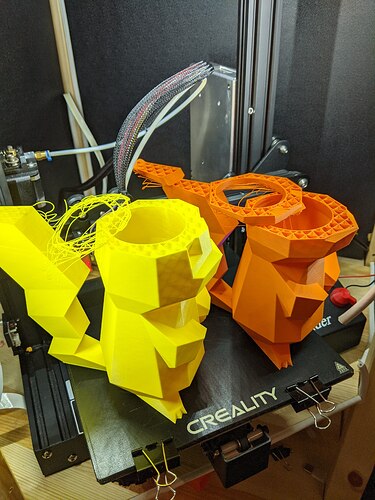 For the latter (yellow), here the octoprint.log (110.7 KB). The job was running fine earlier in the morning (you can see I connected from my iPad around 8am to check it), while shortly before noon I had to stop it since I observed the shift.
The model was well attached to the plate.
I am running Octoprint version 1.5.3 on OctoPi version 0.17.0, running on Raspberry Pi 3 Model B Plus Rev 1.3.
The Ender 3 Pro (purchased in Jan 2020) is running the Creality Silent Board v1.1.5 with marlin 2.0.x.
My next steps could be
Running in safe mode
Tape the 5V line on the USB to avoid back powering the board from the Pi.
Before doing that, I would love to hear if the community has an idea about the issue, each model is around 200g filament and I would like to limit the trials as much as possible

Thanks in advance!
Max