I recently helped someone on OctoPrint's Discord server to get a wyze cam v3 to work with OctoPrint. Thanks to previous work by @Chudsaviet to get integrated HLS support it's fairly easy to transcode rtsp using restreamer. As of this posting the following steps worked to get this integration.
SSH to Pi using putty, run these commands
sudo apt update
sudo apt upgrade
curl -fsSL https://get.docker.com -o get-docker.sh
sudo sh get-docker.sh
sudo groupadd docker
sudo usermod -aG docker $USER
sudo systemctl disable webcamd
sudo systemctl disable ffmpeg_hls
sudo service webcamd stop
sudo service ffmpeg_hls stop
logout

log back in to SSH, run this command. I'd recommend reading restreamer's documentation for optimizing the system to your needs. Make sure to replace the username and password from the default ones listed in the example command line below.
docker run -d --restart always \
     --name restreamer \
     -e "RS_USERNAME=admin" -e "RS_PASSWORD=datarhei" \
     -e "RS_SNAPSHOT_INTERVAL=10" \
     -p 8080:8080 -v /mnt/restreamer/db:/restreamer/db \
     --tmpfs /tmp/hls \
     datarhei/restreamer-armv7l:latest

open browser to http://<your pi's ip>:8080/ and login with username password specified in docker run command above.
add your rtsp stream url in restreamer, set options accordingly and start.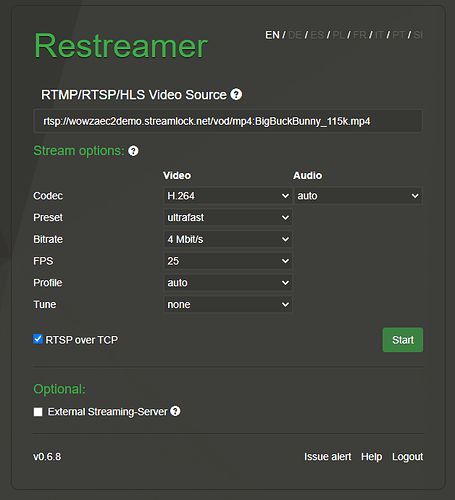 in octoprint's webcam & timelapse settings set the stream url to http://<your pi's ip>:8080/hls/live.stream.m3u8 and snapshot url to http://<your pi's ip>:8080/images/live.jpg
Example rtsp test stream of BigBuckBunny...