Apologies if this should be under Plugins, not 100% where it needed to go so went her as a stating point.
When I run the Update Mesh Now from the Bed Visualiser it comes back with something that looks fairly hideous. In case the picture I'm trying to post doesn't appear it's also available here (google docs) Min is -.206 max is .745 so I'm nearly 1mm out. Looking at the graph I think that it's low on the far left corner (0,220) and high on the front right (220,0).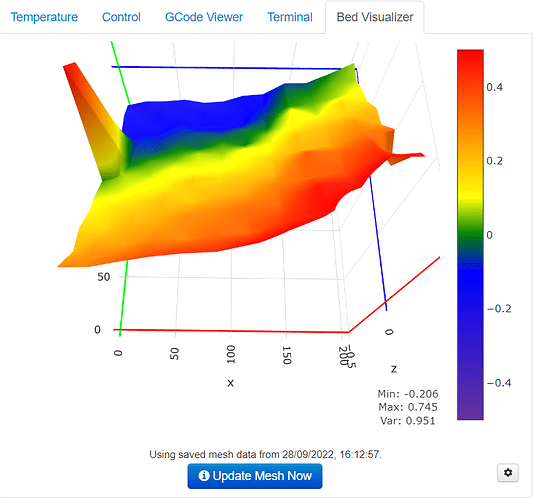 However, it doesn't seem to matter how slowly I wind the nuts, what I do doesn't seem to impact the graph how I expect it too. I think the nut and bolt are a 1mm pitch so in my head, looking at that picture I need to turn the back left screw anti(counter) clock about 1/4 turn and the front right half a turn clockwise (just less).
I'm also slightly confused as to whether or not generating the mesh will automatically save it and how once it is saved I make sure the printer uses the mesh to auto adjust.
If anyone is able to confirm or point me to where I need to look to work it out I would really appreciate it.