What is the problem?
Pas le lecture de la température de la buse. alors que dans les logs et sur l'imprimantes le température est bien affiché (pas de soucis de sonde débranché)


What did you already try to solve it?
recompilation marlin
Have you tried running in safe mode?
OUI
Did running in safe mode solve the problem?
En Safe mode pas de soucis de lecture de température de la buse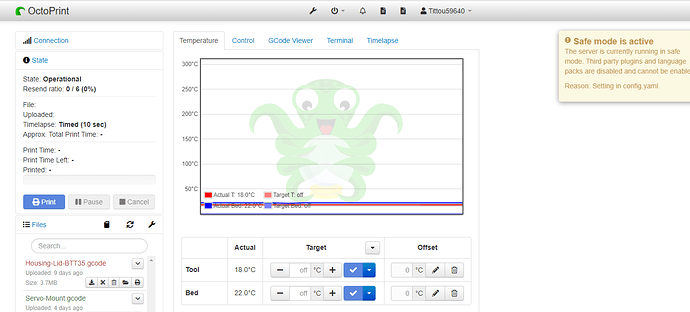 Complete Logs
2021-05-11 16:51:48,045 - Send: N1 M115*39
2021-05-11 16:51:48,050 - Recv: FIRMWARE_NAME:Marlin bugfix-2.0.x (Apr  5 2021 19:44:24) SOURCE_CODE_URL:github.com/MarlinFirmware/Marlin PROTOCOL_VERSION:1.0 MACHINE_TYPE:Ender 3 BTT turbo EXTRUDER_COUNT:1 UUID:447584c2-48ba-4872-87a2-851b8c775ac4
2021-05-11 16:51:48,056 - 
2021-05-11 16:51:48,056 - ---------------------------------------------------------------------------
2021-05-11 16:51:48,056 - Your printer's firmware is a development build. It might be more unstable
2021-05-11 16:51:48,056 - than a release version and should be updated regularly.
2021-05-11 16:51:48,056 - 
2021-05-11 16:51:48,057 - Learn more at https://faq.octoprint.org/warning-firmware-development
2021-05-11 16:51:48,057 - ---------------------------------------------------------------------------
2021-05-11 16:51:48,057 - 
2021-05-11 16:51:48,057 - 
2021-05-11 16:51:48,063 - Recv: Cap:SERIAL_XON_XOFF:0
2021-05-11 16:51:48,072 - Recv: Cap:BINARY_FILE_TRANSFER:0
2021-05-11 16:51:48,078 - Recv: Cap:EEPROM:1
2021-05-11 16:51:48,082 - Recv: Cap:VOLUMETRIC:1
2021-05-11 16:51:48,088 - Recv: Cap:AUTOREPORT_TEMP:1
2021-05-11 16:51:48,097 - Recv: Cap:PROGRESS:0
2021-05-11 16:51:48,122 - Recv: Cap:PRINT_JOB:1
2021-05-11 16:51:48,146 - Recv: Cap:AUTOLEVEL:1
2021-05-11 16:51:48,187 - Recv: Cap:RUNOUT:0
2021-05-11 16:51:48,222 - Recv: Cap:Z_PROBE:1
2021-05-11 16:51:48,248 - Recv: Cap:LEVELING_DATA:1
2021-05-11 16:51:48,285 - Recv: Cap:BUILD_PERCENT:0
2021-05-11 16:51:48,310 - Recv: Cap:SOFTWARE_POWER:0
2021-05-11 16:51:48,347 - Recv: Cap:TOGGLE_LIGHTS:0
2021-05-11 16:51:48,389 - Recv: Cap:CASE_LIGHT_BRIGHTNESS:0
2021-05-11 16:51:48,423 - Recv: Cap:EMERGENCY_PARSER:0
2021-05-11 16:51:48,433 - Recv: Cap:PROMPT_SUPPORT:0
2021-05-11 16:51:48,441 - Recv: Cap:SDCARD:0
2021-05-11 16:51:48,455 - Recv: Cap:REPEAT:0
2021-05-11 16:51:48,475 - Recv: Cap:SD_WRITE:0
2021-05-11 16:51:48,548 - Recv: Cap:AUTOREPORT_SD_STATUS:0
2021-05-11 16:51:48,577 - Recv: Cap:LONG_FILENAME:0
2021-05-11 16:51:48,639 - Recv: Cap:THERMAL_PROTECTION:1
2021-05-11 16:51:48,669 - Recv: Cap:MOTION_MODES:0
2021-05-11 16:51:48,713 - Recv: Cap:ARCS:1
2021-05-11 16:51:48,735 - Recv: Cap:BABYSTEPPING:0
2021-05-11 16:51:48,773 - Recv: Cap:CHAMBER_TEMPERATURE:0
2021-05-11 16:51:48,803 - Recv: Cap:COOLER_TEMPERATURE:0
2021-05-11 16:51:48,834 - Recv: Cap:MEATPACK:0
2021-05-11 16:51:48,859 - Recv: ok
2021-05-11 16:51:48,889 - Send: M21
2021-05-11 16:51:48,890 - Recv: echo:Unknown command: "M21"
2021-05-11 16:51:48,898 - Recv: ok
2021-05-11 16:51:48,924 - Recv:  T:18.00 /0.00 B:21.00 /0.00 @:0 B

Additional information about your setup
OctoPrint : 1.6.1
model: Raspberry Pi 4 Model B Rev 1.2
octopi_version: 0.18.0
Ender 3 pro carte SKR 1,4 turbo, écran TFT 3,5
Marlin bugfix-2.0.x (Apr 5 2021 19:44:24)
browser edge windows 10
Windows 10 pro 64 its 20h2**