Don't really understand this "form" so pls. have some understanding if I have misunderstand etc. I even don't know if I am on the right place to ask here.
What is the problem?
Total layer not displayed anywhere in Octoprint just a dash ( - )
What did you already try to solve it?
Totally new to all this so just tried FAQ's etc.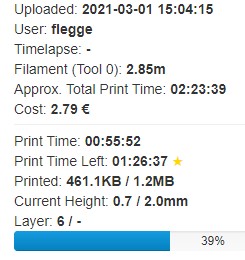 [octoprint.log|attachment]
Have you tried running in safe mode?
no
Did running in safe mode solve the problem?
WRITE HERE
Complete Logs
(upload://ypYUX1SEhugkQEVJ20dhiKeSbJ4.log) (119.9 KB)
octoprint.log (119.9 KB)
octoprint.log, serial.log or output on terminal tab at a minimum, browser error console if UI issue ... no logs, no support! Not log excerpts, complete logs.)
WRITE HERE
Additional information about your setup
Octoprint Version 1.5.3
running on Dell Laptop and:
Ubuntu 20.04.2 LTS|
|Release:|20.04|
|Codename:|focal|
WRITE HERE