Hi all, I am new here, but seeking some insight into unlocking the potential of my new Printer.
It is a Bolt Pro from Leapfrog. Independent Dual Y axis Heads. Rugged Build high quality.
I understand this printer is running a Rasp Pi 3 and OctoPrint, however it has a custom GUI.
When I boot it up, it says "OctoPrint is starting up, please wait..."
then
"OctoPrint server started, waiting for it to get ready..."
Then finally, it loads a Leapfrog GUI.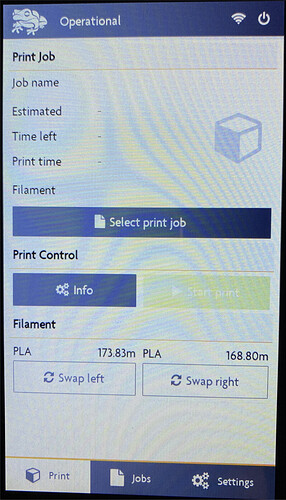 The question I have needs some further background... in the first bootup out of the box (even though it had been previously tested) it went to (what I now know) is the full OctoPrint GUI. At the time I thought something had gone wrong as it did not match the GUI in the setup manual, with lots of functions, tabs, etc. as compared with the minimalist Leapfrog GUI.
After a further re-boot (or 2), the LeapFrog GUI appeared and has remained steadfast now for every boot.
OK, finally the question... is there any way, shortcut/keypress, that one can switch back to the full OctoPrint GUI as it had done so before (by accident)? I am awaiting a reply from the Vendor, but I am not holding my breath

I may consider running a fresh install of OctoPrint one day, but I would need the printer settings hidden in the current setup first.
thanks in advance
Brett