What is the problem?
When printing with OctoPRINT and time-lapse video the resulting print has globs and stringers because the HotEnd pauses and ooze's filament. This seems to happen only in the outer wall layer. See picture the left side print.
What did you already try to solve it?
Adjustments in Cura speed settings. Print speed 25 mm/s, Wall speed 12.5mm/s and Outer wall speed 6.25mm/s. These were used to try to keep the buffer full. Changed the Bufsize in the Firmware from 5 to 20. Set the Baud Rate in the Firmware to 250000.
Printed directly from an SD card and there were no issues. See picture the right side print.
Have you tried running in safe mode?
Not yet but now that I know I need to, I will.
Did running in safe mode solve the problem?
Results To Be Determined. 7/7/22
Systeminfo Bundle
You can download this in OctoPrint's System Information dialog ... no bundle, no support!)
I can only up load 5 items as a new user. They are uploaded here.
haproxy.log (37.8 KB)
octoprint.log (49.5 KB)
serial.log (148 Bytes)
webcamd.log (26.9 KB)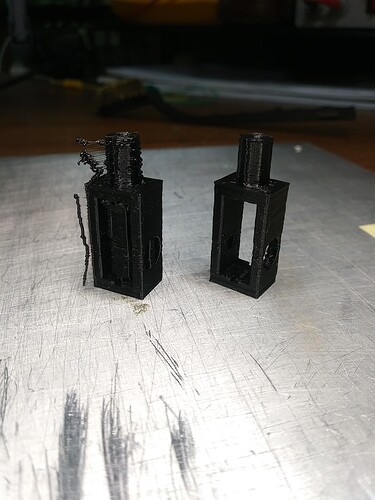 Print Picture. Left one is the OctoPRINT issue. The Right one is from an SD card.
Additional information about your setup
OctoPrint version, OctoPi version, printer, firmware, browser, operating system, ... as much data as possible
OcoPRINT 1.8.1, Python 3.7.3, OctoPi 0.18.0 (Plug In Octolapse 0.4.0).
Ender 5 Pro.
Mriscoc Ender3 V2/5P Professional Firmware ver 20220527.
Google Chrome, Windows 10.
Raspberry Pi 3 Model B v1.2.
Logitech C920 HD Webcam.