My idea is to be able to put a second webcam stream into the octoprint control tab, with an overlay button (or jog-panel) to switch between the two cameras feeds. I attempted to implement this myself thinking it would be pretty simple, however having never created octoprint plugins before i ran into some issues getting some things to work as i intended.
Here is an example of what i'm talking about.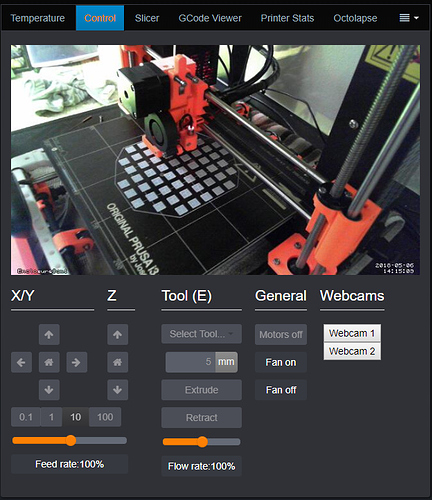 Under settings for the plugin there would be a single dropdown with the first option being what ever stream (if provided) is under the Webcams and Timelapse tab. The second options being "Add WebCam". When you select one of the options, two input boxes would show up below, where you could provide a name and URL to a second or a third webcam stream,
The screenshot above does not show the progress of my current work as getting those button to appear where i need them is where im having the most trouble. If anyone else wants to take a swing at it I would be very grateful! The name was going to be Multicam, since that seems to be available in the repository.