Hi,
I'm currently brainstorming about a new print history plugin. Yes, I'm aware that there already exists one but that project seems abandoned and I wasn't able to contact the author. That's why I decided to create another one.
The following properties of a print ought to be provided:
filename
the user who started the print
print date
print time
used filament (FilamentManager Plugin)
print cost (CostEstimation Plugin)
wheather the print was successful or not
added notes
Because of the amount of the properties it is not easy to provide them inside a small table. Therefore I'm considering to show only the most interesting from the outset. The rest is shown when clicking on a row. Here is an image of how it could look like: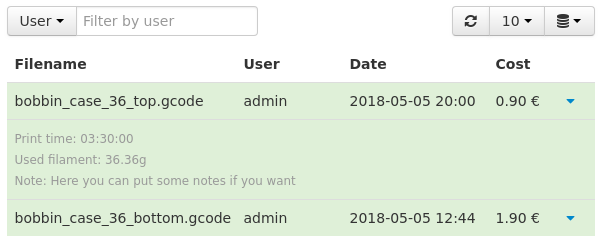 Some features I'm also considering:
export of database
some statistics (maybe print time about weeks/month?!)
common database for multiple instances
make and save a photo of the object after a print
load file with click on the filename (@Ray_Price)
track prints only if actual filament was extruded (@Peel)
I opened this thread because I'm curious about what you think and which improvements/ideas you might have.
Edit: A more complete mockup → https://i.imgur.com/SnsmsuT.png